Chilcot Report shows key intelligence and decision maker failures
Wednesday 6 Jul 2016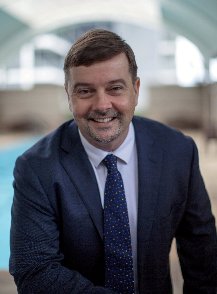 The Chilcot Report into the UK Government's decision-making on the invasion and war with Iraq shows failures by intelligence agencies and decision-makers, a Charles Sturt University (CSU) academic says.
The 12 volume Inquiry report released overnight had been stalled for several years due to dispute between individuals involved and sensitivities over the release of intelligence and other Cabinet documents.
"The Chilcot Report is like no other government sponsored report thus far into the intelligence assessments used by decision-makers for invading Iraq," said Associate Professor Patrick F Walsh (pictured) from the CSU Australian Graduate School of Policing and Security.
"You can forget the former UK Butler Report, or the US Senate Select Committee Report, or even the Australian Government Flood Report," he said. "Chilcot's Report is so forensically detailed in its collection of evidence from former UK Prime Minister Tony Blair, other key Cabinet ministers and heads of UK intelligence agencies, and it provides greater insights into how the US Bush Administration was intent on invading Iraq much earlier than thought."
The report traverses several phases of the UK government's decision-making on Iraq, from pre-conflict strategy and planning to addressing whether the UK achieved its objectives in Iraq.
Professor Walsh said, "While in some ways UK intelligence assessments were often clearer than those coming out of Washington DC in not linking Saddam Hussein's pursuit of biological, chemical and even nuclear weapons to giving them to Al Qaeda, Joint Intelligence Committee reports submitted to the UK Cabinet were still flawed".
Professor Walsh said in addition to the intelligence failures, there is one interesting and critical revelation.
"Chilcot argues in his report that Tony Blair believed that intelligence assessments were telling him that Hussein continued to produce chemical and biological weapons, including an ability to extend the range of Iraq's ballistic missile program," Professor Walsh said.
"This is one of many key points in the report as there was a critical difference between what a political leader believes the intelligence is saying and what it actually does say."
Professor Walsh said that the UK intelligence assessments at the time were still fairly equivocal in their language and had not established beyond reasonable doubt whether Hussein had continued to produce chemical and biological weapons.
"While there were key collection and analytical failures, this single point by Chilcot is another example of the most common form of intelligence failure, which is failure by a leader not to use the intelligence correctly," according to Professor Walsh. "The political leadership can ignore, politicise or cherry pick from intelligence assessments which can puff up the validity and accuracy of assessments beyond the caveats the intelligence community puts on them.
"This, along with revelations of a private letter from Blair to Bush stating that 'I will be with you whatever' is really the slam-dunk part of the report.
"This is not to let the UK intelligence community off the hook," Professor Walsh said. "Chilcot rightly points out that the intelligence needed to be contested a lot more during its production before it got to decision-makers. There was a fixation by the intelligence community that Hussein was continuing to be deceptive about his weapons program, and little exploring of other assessments that he may indeed have no longer possessed chemical or biological weapons.
"The 12 volumes of this report stretch beyond the intelligence failures to other topics, including the legal basis for invasion and the many failures of the UK's post-conflict strategy will keep the UK public engaged and that of other coalition partners, the USA and Australia, for some time yet."
Read the Chilcot Report – Executive Summary.
ends
Media contact: Bruce Andrews, (02) 6338 6084
Media Note:

Contact CSU Media to arrange interviews with Associate Professor Patrick Walsh.
Associate Professor Patrick Walsh is a senior lecturer in intelligence and security studies at the Australian Graduate School of Policing and Security, Charles Sturt University, Australia. He teaches national security and intelligence issues and his research interests range across intelligence reform and bio-security issues. His most recent book, Intelligence and Intelligence Analysis (Routledge, 2011), examines intelligence reform in Australia, Canada, New Zealand, the USA and the UK since 9/11. He is also consulted widely by Australian federal and state agencies on intelligence reform/capability and bio-security issues. Prior to becoming an academic, Dr Walsh was an intelligence officer working in both national security and law enforcement contexts.