CSU student treks world wonder for charity
Sunday 19 Jun 2016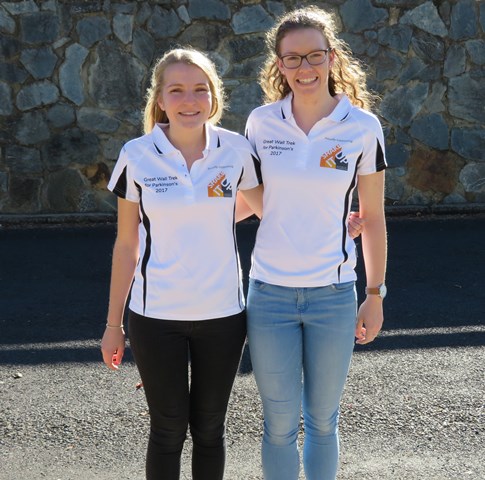 Motivated by her father's diagnosis with Parkinson's disease, a Charles Sturt University (CSU) student has set her sights on walking one of the world's greatest architectural feats, the Great Wall of China.
Bachelor of Physiotherapy (Honours) student Ms Claire Smart (right) and her friend Ms Elizabeth Zoneff will walk part of the Great Wall of China to raise money for research into the progressive disease.
"Thirty-two Australians are diagnosed with Parkinson's disease everyday, making it the second most common neurological disease in Australia," Ms Smart said.
"There's currently no known cure for the condition, however the not-for-profit organisation, Shake it Up Australia Foundation, funds vital research into better treatments and ultimately, a cure.
"This sort of research is very close to our hearts as my Dad was diagnosed with early onset Parkinson's disease two years ago.
"This has opened our eyes to what a big impact Parkinson's disease has on so many people and Elizabeth and I want to show our support for others in the community in a similar situation."
Labelling it an 'adventure charity challenge', the friends will trek a 40-kilometre section of the Great Wall in Heibei Province for eight days from the Monday 26 June to Monday 3 July.
Originally from Canberra, Ms Smart moved to CSU in Albury-Wodonga in 2015 to study physiotherapy. She hopes to work in paediatrics and with people with disabilities.
"Our goal is to raise at least $3 000 before we depart Australia and donate it all to the Shake It Up Australia Foundation so that the organisation can continue its great work," Ms Smart said.
You can support the women's charity walk here.
The University offers a four-year Bachelor of Physiotherapy through the School of Community Health at CSU in Albury-Wodonga, Orange and Port Macquarie.
ends
Media contact: Fiona Halloran , (02) 6933 2207
Media Note:

CSU physiotherapy student Ms Claire Smart is due to leave Australia on Friday 23 June and return to CSU in Albury-Wodonga on Sunday 9 July.
Photo: CSU student Ms Claire Smart (right) with friend Ms Elizabeth Zoneff prepare for their Great Wall of China trek.