Riverina-Murray literacy educators on the move
Tuesday, 17 Oct 2017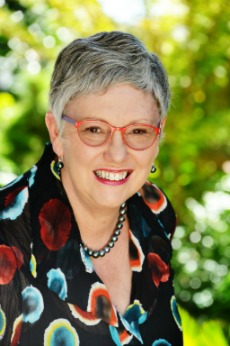 Literacy educators and parents in Albury-Wodonga and surrounding areas need to note two events and dates relevant to children's development of literacy and writing skills.
The Riverina-Murray Local Council of the Australian Literacy Educators' Association (ALEA) has recently relocated to Albury-Wodonga and will hold events for teachers in Albury-Wodonga on Wednesday 18 October and for parents/guardians at 7pm to 8.30pm on Wednesday 1 November.
The president of the new local council of ALEA Riverina Murray, Dr Noella Mackenzie (pictured), who is also senior lecturer in the School of Education in Albury-Wodonga, said the event on Wednesday 18 October is to launch the ALEA Riverina-Murray council. The launch will be at the Albury Library Museum from 4.30pm to 5.30pm, and this workshop is for primary and secondary teachers.
The free parent forum titled 'Helping young children to draw and write' will be held at Wodonga Primary School from 7pm to 8.30pm on Wednesday 1 November.
As a literacy development researcher, Dr Mackenzie will discuss the important drawing and writing milestones for children; the links between early drawing, writing and reading; some of the issues of writing in modern times such as hand writing and keyboarding; and ways for parents to support children as they learn to draw and write.
Dr Mackenzie said, "The teaching of writing and approaches to support children's development, have changed over time, reflecting shifts in theoretical models and perspectives of teaching and learning.
"Young children begin their writing journey creating meaning by combining talking, drawing, singing and role-playing, long before they engage in the mature written forms of their culture.
"If children see an advantage in being able to write, they will apply the same focused attention to learning how to write that they applied to learning to be oral language users.
"If we encourage and value drawing and talking, we can build a bridge between children's prior-to-school experiences, current systems of meaning-making, and the new system of writing. In this way, writing becomes a parallel means of meaning-making rather than a replacement for the drawing and talking they already do so well when they arrive at school.
"Children who are encouraged to draw, talk, write and share become confident, flexible writers who create more complex texts than when they are restricted to just writing," Dr Mackenzie said.
Dr Mackenzie explained that teaching handwriting and keyboarding has changed dramatically in the last decade with the rise of 'keyboarding', and it is this topic that she will discuss with teachers on Wednesday.
"Twenty or perhaps only ten years ago, learning to write by hand was an important milestone associated with starting school," she said. "Handwriting instruction began with pencils and printing (manuscript), with children graduating to pen and cursive script as they moved into the fourth year of school.
"According to the Australian Curriculum (Australian Curriculum, Assessment and Reporting Authority, ACARA, 2016a) this is still the expectation of Australian schools.
"But in the last five or so years things have changed rapidly, as tablets and smart phones have become commonplace in many homes, with computers more visible in early childhood education settings and early years classrooms, and with the curriculum increasingly crowded. The accountability agenda that has resulted from high-stakes testing has also impacted what teachers in schools prioritise.
"However, to be literate in 21st century society requires the ability to flexibly create and interpret both print and digital texts. Most people use both keyboarding and handwriting at some stage throughout their day, as well as texting on their phone and/or using a touch screen on a digital tablet."
Media contact: Bruce Andrews, (02) 6338 6084
Media Note:

Contact CSU Media to arrange interviews with Dr Noella Mackenzie, senior lecturer in the School of Education in Albury-Wodonga.