'A Feast of Artists' exhibition at CSU in Dubbo
Wednesday, 24 Jan 2018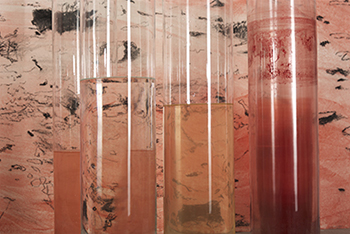 A diverse range of Australian artists will display their works in a new exhibition to open at Charles Sturt University (CSU) in Dubbo on Saturday 3 February.
The 'A Feast of Artists' exhibition features works by 29 artists and is curated by Ms Tamara Lawry, visual arts and photography teacher with the Dubbo School of Distance Education.
CSU in Dubbo campus development manager Mr Bart Sykes said, "Charles Sturt University is delighted to again host an outstanding exhibition of art works by a range of leading and local artists.
"The evolving 2018 program of art exhibitions highlights the University's commitment to and engagement with the community and a range of organisations as a vital resource 'for the public good'.
"We have committed to stage specific exhibitions up until end of July, and an Expressions of Interest process for exhibitions for 2018-2019 will commence in June this year."
Exhibition curator Ms Lawry said, "The 29 artists come from Sydney, Kiama, Canberra, Broken Hill, Coolah, Dubbo, and Bathurst, and will exhibit artworks in a variety of forms - painting, drawing, printmaking, video, photography, sculpture and sound.
"This exhibition celebrates the inaugural A Feast of Artists event held in October 2017, which brought together 40 Australian artists and curators to share their artmaking practice with 380 visual arts students from 29 high schools.
Entry is free to the Feast of Artists exhibition at CSU, Tony McGrane Place, Dubbo, and the exhibition runs from Friday 2 February until Monday 26 March.
Photographs documenting the A Feast of Artists event and guest speakers in October 2017 will also be on display.
Media contact: Bruce Andrews, 0418 669 362
Media Note:

Contact CSU Media to arrange interviews.
Image shown -
Artist: Natalie O'Connor
Title: Gol Gol Layer Colour Experiments with Red Pigment – Burnt Sienna
Installation 2017
Material: Glass cylinders, watercolour, gum arabic, water and pigment (PR 101)
A Feast of Artists in October 2017 was an event that brought together 40 Australian artists and curators as keynote speakers, including world renowned Australian artists Wendy Sharpe, George Gittoes and Hellen Rose, Frances Barrett, Caroline Rothwell, with Dr Andrew Frost, and past HSC students Bethany Johnstone and Emma Galley, to present their art practice to Stage 6 visual arts students. Artists and curators presented diverse art workshops in the afternoon at Charles Sturt University and at the Western Plains Cultural Centre.
Approximately 380 students, teachers and artists registered from 29 public, independent and Catholic high schools from Sydney, Canberra, Kiama, Queanbeyan, Temora, Condobolin, Cowra, Tullamore, Broken Hill, Peak Hill, Nyngan, Mudgee, Leeton, Coonabarabran, Canowindra, Bathurst, Orange, and Wellington. They travelled to Dubbo to develop deeper knowledge and understandings of the diversity of artmaking practice contributing to HSC Visual Arts content and case studies for students commencing Stage 6 studies in the NSW HSC Visual Arts subject.