Community placements for CSU criminal justice students to shine
Friday, 10 Mar 2017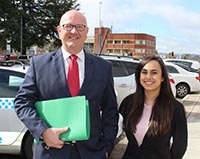 Workplace learning in communities is a vital part of professional education in Charles Sturt University's (CSU) undergraduate courses, including the criminal justice degree at CSU in Bathurst.
"It is vital that students receive this experience to hit the ground running when they receive their degrees. We want them to put their knowledge into practice. This continues the University's status as having the highest graduate employment rate in Australia," said lecturer Lisa Coates with CSU's Centre for Law and Justice.
"For example, one of our students, who graduated last year from the Bachelor of Criminal Justice, helped prepare for and attended an entire criminal trial as part of her placement with Ireland Killen Lawyers in Bathurst. This experience is invaluable on a resume."
In 2016, 71 students were placed in 66 locations around NSW and the ACT with 32 different organisations, ranging from NSW Community Corrections and Juvenile Justice to Barnardos Australia. In 2016, CSU was also the first Australian university outside of ANU and University of Canberra to place students with ACT Legal Aid and Aboriginal Legal Aid (ACT).
In addition, this year the ACT Law Courts in Canberra will offer a student placement to CSU, the first-ever placement in criminology offered by the Court and the first to a non-ACT university.
To assist such a dispersed student group during their placements, Ms Coates has developed a Workplace Learning Resource website, which will serve CSU students from Bathurst and Port Macquarie as well as those studying through CSU online around Australia.
"With students placed as far as Taree, Lake Macquarie and Griffith across regional NSW to inner-city Sydney, this website is an interactive resource for students to prepare, inform and support them during their placements. It will also assist them in transitioning into graduate working life," Ms Coates concluded.The new resource website will be launched with final year criminal justice studies students at 1pm on Monday 13 March at CSU in Bathurst.
Media contact: Wes Ward, 0417 125 795
Media Note:

For interviews with CSU lecturer Ms Lisa Coates, contact CSU Media.
The official launch of the Workplace Learning Resource website for final year students in the Criminal Justice program at CSU will be held from 1pm in Rm 324, Building 1412, CSU in Bathurst, Panorama Ave, Bathurst.
Read more on CSU's top ranking for graduate employment here.