Connecting CSU students and Bathurst employers
Thursday, 8 Mar 2018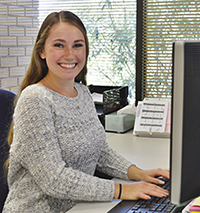 First-year Charles Sturt University (CSU) student Ms Elicia Dearsley is one of over 200 students to benefit from a new program that assists on-campus students to become job-ready and connect to local employers.
Having recently moved to Bathurst from the NSW South Coast to study a Bachelor of Education (Early Childhood and Primary), Ms Dearsley (pictured) secured two casual jobs through the Earn As You Learn (EAYL) program.
"The program helped me prepare to find a job while studying by helping me create the best version of my resumé I could," Ms Dearsley said. "They talked me through what employers would be looking for in a resumé and also in an interview situation so I could tailor my resumé to be more suitable for the work I was looking for and had some handy tips to take into my interviews."
EAYL Coordinator in the CSU Division of Student Services, Ms Georgina Stuart explained that EAYL is a pilot program that assists new and current on-campus students at CSU in Bathurst to prepare for and find work that fits around their study schedule.
"The program is free and aims to alleviate any financial concerns students may have around starting university", Ms Stuart said. "They simply register online and we meet with them one-on-one to find out about their skills and interests. We review their resumé and experience. We then match students to local employers registered in the program".
Bathurst local Ms Olive Lockett, a second-year Bachelor of Business (Marketing) student, already had some part-time work at a local supermarket but was looking for some industry-related experience that would give her the skills she needed for graduate employment. Through the EAYL program Ms Lockett has secured a job managing the social media accounts for a new fashion boutique that has opened in Bathurst, 'Sunday Thistle'.
Ms Lockett said, "EAYL has given me the opportunity to gain a job that is relevant to my degree and in an area I'm genuinely passionate about. The program has been an amazing help to my overall career, having the opportunity to sit down and perfect my resumé for my line of work.
"I would highly recommend signing up for EAYL if you are looking for job that is going to help you gain experience and earn money while at university."
Owner/manager of Sunday Thistle and Ms Lockett's new boss, Ms Shylo Land, is impressed with the program and with Ms Lockett's marketing skills.
"The EAYL service has worked perfectly for me. The friendly team provided me with potential candidates the same day that I lodged my request and I was able to recruit Olive immediately. I would highly recommend this service to other businesses in Bathurst looking for casual employees," Ms Land said.
The 'Earn As You Learn' program will be trialled in Bathurst initially, with the aim to extend it across the University.
Students can learn more at: http://student.csu.edu.au/services-support/careers, or by contacting earnasyoulearn@csu.edu.au
Background for employers
Local employers also benefit from the EAYL program by gaining:
- free access to local job-ready students looking for casual and part-time work;
- a shortlist of suitable candidates from CSU's database of job-ready students;
- the opportunity to gain a fresh perspective in their workplace, fill short-term contracts, provide holiday backfill, or cover for busy periods;
- access to the specialty skills of CSU students, such as marketing and communications, accounting, and IT.
Employers have to be within 50 kilometres of Bathurst, and can only log jobs of up to 20 hours per week.
Employers can find out more here: http://www.csu.edu.au/contacts/promote-jobs-to-csu-students/earn-as-you-learn
Media contact: Bruce Andrews, 0418 669 362
Media Note:

Contact CSU Media to arrange interviews.