CSU students perform Louis Nowra's celebrated play 'Cosi' in Bathurst
Wednesday, 16 May 2018
* Australian comedy play Cosi by Louis Nowra at the CSU Ponton Theatre in Bathurst from Tuesday 22 to Saturday 26 May
* Madness, burning cats, Mozart, and a play within a play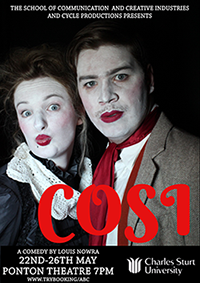 One of Australia's popular comedy plays, Cosi by Louis Nowra, will be performed by third-year Charles Sturt University (CSU) theatre/media students at the Ponton Theatre in Bathurst from Tuesday 22 to Saturday 26 May.
Presented by CYCLE Productions and the School of Communication and Creative Industries, Cosi explores mental illness, politics, love and sex and freedom, begging the question – "What is normal?".
The synopsis: It is 1971. Lewis (played by Gareth Thompson), a university graduate, is directing his first production at a mental institution in Melbourne. Faced with the challenge of bringing Mozart's opera Cosi Fan Tutte to life, he must work with a group of extraordinary characters, under unexpected circumstances. Through all this, Lewis must navigate the boundaries between love, loyalty and trust to get this show on the road.
Cosi is directed by CSU lecturer Dr Kate Smith, with assistant directors third-year students Ms Sophie Fitzgerald and Ms Madeline Whittaker.
"Madness, burning cats, Mozart, and a play within a play. What could possibly go wrong? Everything, but no matter what, the show must go on!" Dr Smith said.
Cosi will be performed nightly at 7pm from Tuesday 22 to Saturday 26 May as well as a matinee performance at 1pm on Saturday, at the Ponton Theatre (building 1434), Charles Sturt University, Panorama Avenue, Bathurst.
Tickets can be purchased via Trybooking.com: https://www.trybooking.com/book/event?eid=377842&
High School Special = $8, Student/Concession = $10, Adults = $15
Please note: This show contains coarse language, sexual references and drug references. Parental guidance is recommended.
Media contact: Bruce Andrews, 0418 669 362
Media Note:

Contact CSU Media to arrange interviews.
For more information please contact Ms Gia Mia Radice on 0437 190 797 or Ms Jana Vass on 0478 931 589.