Leading jurist to speak at CSU in Bathurst
Wednesday, 24 Jan 2018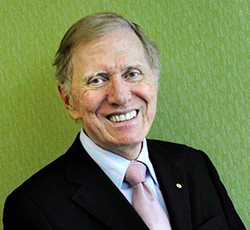 One of Australia's leading legal figures will deliver a free public lecture and workshops for law students at Charles Sturt University (CSU) in Bathurst on Wednesday 31 January.
Acting Director for the CSU Centre for Law and Justice Dr Kath McFarlane said, "We are delighted that The Honourable Michael Kirby, AC, CMG, (pictured) will present a free public lecture at the University.
"This is a tremendous opportunity for the Bathurst community to hear from one of the most influential legal figures of our age.
"It is also a tremendous privilege for CSU's Bachelor of Laws students, who will participate in specialised workshops facilitated by Justice Kirby.

"Through exposure to great legal thinkers and advocates, the Centre for Law and Justice aims to create change-makers, skilled legal professionals who can work at the heart of regional communities, driving advocacy and improving access to legal representation across the country."
Upon his retirement from the High Court of Australia in February 2009, the Honourable Michael Kirby was Australia's longest-serving judicial officer. Throughout his stellar legal career he served on various national and international bodies, including as President of the International Commission of Jurists, UN Special Representative for Human Rights in Cambodia, and the UNAIDS Reference Group on HIV and Human Rights.

More recently, he was appointed to the Advisory Council of Transparency International, the Chair of the UN Commission of Inquiry on Human Rights Violations in North Korea for 2013-2014, and the UNAIDS/OHCHR's panel on the overreach of criminal law.
Dr McFarlane said, "The Charles Sturt University Centre for Law and Justice works closely with and learns from the professions, creates change-makers, and is committed to social justice and our regions. It connects its students with leading national and international thinkers.
"The University's Bachelor of Laws is an internationally unique undergraduate law degree. As well as teaching the traditional law curriculum, our course incorporates Indigenous Australian content, embeds cultural competence, and offers a range of specialised regional law topics."
The free public lecture by The Honourable Michael Kirby, AC, CMG, is from 10.30am to 1pm on Wednesday 31st January in building 1411, room 347. A light lunch at CSU Engineering (building 1305) will follow the event. To RSVP please contact Ms Kristy Larsen on (02) 6338 4087 or klarsen@csu.edu.au or register here.
Media contact: Bruce Andrews, 0418 669 362
Media Note:

Contact CSU Media to arrange interviews with Dr Kath McFarlane.