The 2017 Theo Barker Memorial Lecture
Monday, 7 Aug 2017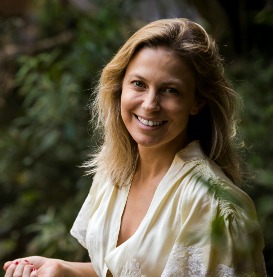 The 7th Theo Barker Memorial Lecture will feature young local performers in a rehearsed reading of the text delivered by Australian actress and playwright Ms Rachael Coopes.
This free public lecture on Friday 18 August is the next in the Charles Sturt University (CSU) Explorations Series in Bathurst.
Adjunct Associate Professor in history in the CSU School of Humanities and Social Sciences Robin McLachlan said, "The Theo Barker Memorial Lecture is widely recognised as a significant Bathurst event that is both scholarly in content and popular in presentation.
"Lecture presenter Ms Coopes (pictured) has a deep passion for research-based projects derived from her fascination with how Australia's past informs its present and a desire to create theatre for young people.
"Her plays have been staged in the USA, Britain, and across Australia, and they delve into the complex process of merging history with imagination.
"For her Theo Barker Memorial Lecture, Rachael will draw on examples from Bathurst's history to illustrate how this can happen and will reflect on her present work-in-progress script which will premiere next year in the annual season of the Bathurst Memorial Entertainment Centre (BMEC). Young local actors will read from this script during the lecture."
In a departure from the usual venue at Charles Sturt University (CSU) in Bathurst, the 2017 lecture, titled 'The Ghosts of the Past are Very Present in Bathurst', will be presented at the Bathurst Memorial Entertainment Centre (BMEC) on 18 August.
From its inception in 2005, the Theo Barker Memorial Lecture has been co-hosted by the Bathurst District Historical Society and CSU, with BMEC joining on this occasion as a co-host.
Manager of BMEC Mr Stephen Champion said, "We're delighted that BMEC can collaborate with the University and the Bathurst District Historical Society on this occasion to present a dynamic public lecture by Ms Coopes featuring talented young local performers.
"Rachael is an exceptionally gifted and perceptive writer as evidenced by the awards and nominations received for Sugarland. Our commission, The Climbing Tree, is based on the processes that lead to that work and the current draft is powerful and compelling.The theme is engaging and invites the audience to reflect on Bathurst's history and how it shapes us all as local residents."
The venue for this free public lecture is the City Hall at the Bathurst Memorial Entertainment Centre, William Street, Bathurst, at 6pm for a 6.30pm start on Friday 18 August. Light refreshments will be served before the start of the lecture.
Media contact: Bruce Andrews, (02) 6338 6084
Media Note:

Contact CSU Media to arrange interviews.
Multi-form storyteller Ms Rachael Coopes' career in theatre, film and television spans over 20 years.