Vintage bikes lead CSU Tweed Ride fund raiser
Tuesday, 19 Sep 2017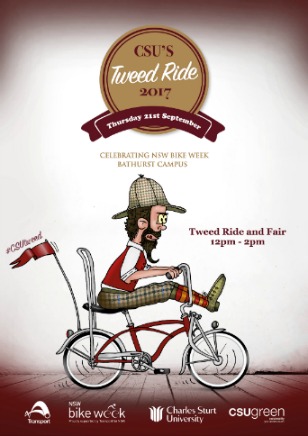 CSU Green will host its second annual Tweed Ride and Fair with a vintage-packed day planned for the library lawn at Charles Sturt University (CSU) in Bathurst on Thursday 21 September.
Sustainability officer with CSU Green Ms Alesha Elbourne said, "This year's Tweed Ride will be held as part of Bike Week, a NSW Transport initiative.
"We aim to engage Charles Sturt University staff and students in sustainability-related conversations about local cycling infrastructure for transport and recreation.
"The aim is to encourage staff and students to reduce their carbon footprint, and raise funds for tree planting."
At least 30 riders are expected to gather at 11.45am in their finest tweeds and climb on their squeaky vintage cycles for a leisurely jaunt around campus starting at 12pm.
The dress code is simple; anything that harks back a time before lycra.
Find out more about the University's support for bike transport here.
To contribute to the CSU Tweed Ride tree count, donate to our partners at BeardsOn here.
The 2017 CSU Tweed Ride starts at 12pm on Thursday 21 September at the library lawn, CSU in Bathurst.
Media contact: Bruce Andrews, (02) 6338 6084
Media Note:

Contact CSU Media to arrange interviews with CSU Green sustainability officer Ms Alesha Elbourne.