Alumni welcomed to CSU facilities in Dubbo
Friday, 11 May 2018
* CSU access program for alumni residing in Dubbo and region
* Alumni have 24/7 access to the library and learning commons, gym access, Wi-Fi access and the ability to book meeting spaces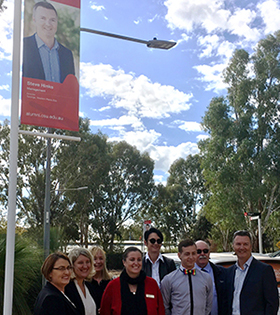 As part of its commitment to support its graduates to succeed in work and life, Charles Sturt University (CSU) in Dubbo launched its new access program for alumni on Thursday 10 May.
Head of Campus of CSU in Dubbo Ms Cathy Maginnis said the new alumni access program is open to all past students of CSU who reside in Dubbo and the surrounding region.
"Charles Sturt University is keen to support our graduates to succeed in work and life, and the program is a further expression of the University's ethos derived from the Wiradjuri phrase yindymarra winhangana, 'the wisdom of knowing how to live well in a world worth living in'," Ms Maginnis said.
"We aim to engage with our alumni, to forge mutually beneficial relationships, to celebrate their successes and to continue to value-add and offer support to them throughout their lives.
"The University in Dubbo is a dynamic and forward looking institution which aims to enhance its presence in the community and continue its fruitful relationship with its locally-based graduates.
"I encourage all Charles Sturt University alumni living in Dubbo and the surrounding region to take advantage of the access program."
CSU alumni in Dubbo will have:
* 24/7 access to the library and learning commons
* gymnasium access
* able to book meeting spaces
* Wi-Fi access
Director of Advancement, Sarah Ansell was present at the launch and spoke on the importance of alumni and continuing engagement with this sector of the University community. Also present at the launch were four members from the Orana and Far Western Regional Consultative Committee; Ms Ann-Marie Furney, Mr Jeff Caldbeck, Ms Jo Lawrence, and Mr Denis Armstrong.
CSU alumni featured on the flags include:
* Ms Juliet Duffy, sustainable management, entrepreneur / advocate for women in STEM
* Mr Nicolas Steepe, social work, project manager, Equity and Diversity at CSU
* Mr Steve Hinks, management, Director of Taronga Western Plains Zoo
* Ms Jo Lawrence, psychology, Executive District Director, Family and Community Services (FaCS)
Media contact: Bruce Andrews, 0418 669 362
Media Note:

Contact CSU Media to arrange interviews.