Breast cancer uncovered at free public lecture at CSU in Dubbo
Tuesday, 15 May 2018
* Four Dubbo experts will speak about breast cancer experiences and support services
* Free CSU public lecture aims to engage regional Australia on this disease.
* Four well-known community members will lead a panel to discuss their personal experiences with breast cancer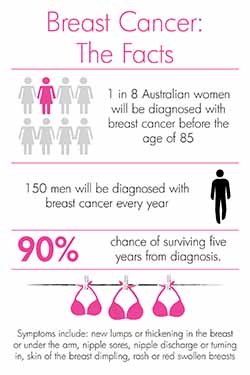 'Breast Cancer Uncovered' is the topic of the next Explorations Series free public lecture at Charles Sturt University (CSU) in Dubbo on Thursday 24 May.
Head of Campus at CSU in Dubbo Ms Cathy Maginnis said the Explorations Series is part of the University's community engagement program, which brings diverse speakers to share ideas, thoughts and opinions on topical issues.
"The Explorations Series public lectures aim to engage our rural and regional communities in discussion and debate about major issues facing our regions, the nation and the world," Ms Maginnis said.
"The focus of this public lecture is breast cancer, an insidious disease that has affected and continues to affect many people in rural communities. Breast cancer doesn't discriminate between gender or age.
"We have invited four well-known community members to form a panel to discuss their personal experiences with breast cancer and the journeys they have undertaken to enhance breast cancer support services throughout the region," Ms Cathy Maginnis said
The speakers are Ms Donna Falconer, author of My Time and founder of the Pink Angels and Groovy Booby Bus; Mr Graeme Board, OAM; and the Dubbo-based McGrath Foundation Breast Care Nurses, Ms Vanessa Hyland and Ms Margie Collins.
Each panel member will deliver a brief presentation and answer questions from the audience, followed by a light supper.
This free CSU Explorations Series public lecture will be at 6pm on Thursday 24 May in room 202, building 902, at CSU, Tony McGrane Place, Dubbo.
Participants are asked to register their intended attendance online here: http://news.csu.edu.au/events?a=3014820
Prior to the event there will be a media opportunity with the speakers at 3pm on Wednesday 16 May.
Media contact: Bruce Andrews, 0418 669 362
Media Note:

Contact CSU Media to arrange interviews.