Gravitational waves explored in free CSU public lecture
Tuesday, 10 May 2016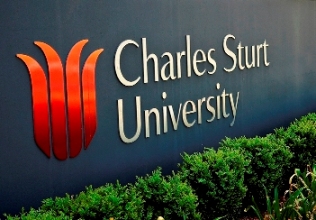 The recent momentous discovery of gravitational waves is the topic of a free public lecture at Charles Sturt University (CSU) in Orange on Tuesday 17 May.
The Explorations Series public lecture will be delivered by Dr Philip Charlton, senior lecturer in mathematics in the CSU School of Computing and Mathematics. Dr Charlton was one of the Australian scientists who played a key role in the discovery of gravitational waves by the LIGO Scientific Collaboration in February 2016.
His lecture will discuss the discovery and scientific implications of this first observation by scientists of ripples in the fabric of space-time (gravitational waves) arriving at the earth from a cataclysmic event in the distant universe. This confirmed a major prediction of Albert Einstein's 1915 general theory of relativity, and opened an unprecedented new window onto the cosmos.
The public lecture will be presented at 6pm Tuesday 17 May in room 120, building 1004, at CSU, Leeds Parade, Orange. For more information contact Regional Relations Assistant to Head of Campus Orange, Ms Margot Drake on 6365 7500 or mdrake@csu.edu.au.
Media contact: Bruce Andrews, (02) 6338 6084
Media Note:

Contact CSU Media to arrange interviews.