Understanding student needs through learning analytics
Wednesday, 16 Mar 2016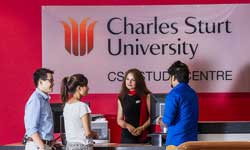 Charles Sturt University (CSU) in Orange will host nearly 50 learning technology experts for a workshop on analytics and adaptive learning and teaching on Thursday 17 March.
Director of Learning Technologies in the CSU Division of Student Learning Associate Professor Philip Uys said the workshop is organised by the Australasian Council on Open, Distance and e-Learning (ACODE) and will provide insight into learning analytics as a barometer for student needs, strategies and technology to ensure adaptive teaching is possible and productive.
"Charles Sturt University has a strong learning analytics program and I'm pleased to say we were one of the first universities to establish an institutional strategy for learning analytics," Professor Uys said.
"As an institution we are excited about the potential for learning analytics to enhance learning and teaching, so we hope workshop participants will leave Orange feeling the same way."
ACODE workshops provide a professional development forum for those involved in learning and teaching in the tertiary education sector. Participants engage with the latest information, exchange ideas and make contacts, with a focus on enhancing policies and practices for learning and teaching enabled by technology.
Media contact: Polly McDougall, (02) 6933 4565
Media Note:

Contact CSU Media to arrange interviews.
The ACODE workshop starts at 9am Thursday 17 March at building 1002, room 211, at CSU in Orange. The workshop is available only to people engaged in the tertiary education sector and registrations are now closed.