CSU 'pop-up university' in Griffith
Sunday, 22 Feb 2015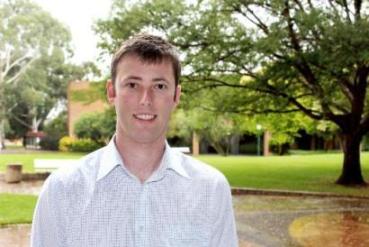 Staff from Charles Sturt University (CSU) will provide support to current and prospective students in Griffith NSW from Monday 22 to Wednesday 24 February.
Acting manager of CSU Outreach Mr Peter Greening (pictured) said a range of CSU support staff will be in Griffith creating a 'pop-up university' to promote and support students and parents to engage with higher education.
"Charles Sturt University has had a long association with Griffith and it is important for us to provide support for people in towns and communities in the region," Mr Greening said.
"Our staff will work with high school students in Years 7 to 10 in a series of fun and interactive workshops that encourage them to see university as an achievable option leading to desirable careers. Staff will also work with senior high school students, discussing the courses that Charles Sturt University has available for them. Two parent and community information sessions will also be held at the TAFE on Monday evening at 6pm, one for parents of senior students, and one for parents of students Years 7 to 10."
Current CSU students can make a booking for the group orientation session at 5.30pm Tuesday 23 February at the Griffith TAFE campus. Visit bit.ly/csu-outreach to book. The CSU visit coincides with a CSU art collection exhibition '2006-2016: A Decade of Printmaking' at the Griffith Regional Art Gallery until Sunday 6 March.
Media contact: Bruce Andrews, (02) 6338 6084
Media Note:

Contact CSU Media to arrange interviews.
The pop-up university involves CSU staff from the Division of Marketing and Communication, the Future Moves program, and the Outreach team in Griffith from Monday 22 to Wednesday 24 February. The program is:
Monday Parents Evening
On Monday 22 February CSU staff present two concurrent sessions starting at 5.30pm at Griffith TAFE for parents invited from the three high schools in Griffith. Ms Ilena Young from Future Moves will run 'Senior Success' and 'Cashed Up' workshops for parents of students in Years 7 to 10. The workshops aim to raise knowledge and awareness in two areas: what students can do to support their children in their studies, and how to make the cost of going to university more affordable. Concurrently, CSU prospective student adviser Mr Andrew Connell will host an event for students in Years 11 and 12 and their parents to inform participants about studying at university, course available, costs and scholarships, getting into university, and living on campus.
Activities in Schools
A CSU prospective student adviser will visit Marian Catholic College and Griffith High School on Tuesday 23, and Wade High School on Wednesday 24 to deliver presentations about CSU courses to Years 11 and 12. An adviser from Future Moves will work with students from Years 7 to 10 at Griffith High School to deliver the 'Career in a Bag' workshop.
Outreach Event The CSU Outreach Team's Ms Diane Middleton will be available on Tuesday 23 February to advise commencing CSU students in one-on-one appointments and a group workshop. The group workshop will focus on how to learn online, which will provide an introduction to the online environment (including the Student Portal and Interact2), getting started on the right foot, and where to go for help. The one-on-one appointments allow students to ask any questions they have with regard to starting university. This can include assistance on study skills, individual assignment questions, time management, or negotiating the online environment.