Future focus of mixed farming at Forbes
Monday, 20 Jul 2015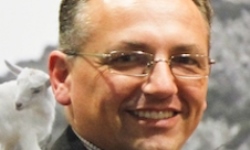 Farmers across the Central West of New South Wales will have an exciting opportunity to hear and discuss first-hand the latest developments in the cropping and livestock industries when a two day forum and farm tour is held in Forbes.
The Agribusiness Today Mixed Farming Forum on Thursday 13 August will look out over the horizon at options and opportunities in an ever changing agricultural environment and how farmers may embrace new technology. The Forum will be followed by a livestock and cropping field trip on Friday 14 August.
Senior lecturer in agribusiness at Charles Sturt University (CSU) Dr Karl Behrendt said the forum and farm tour will showcase current prices and market information for crops and livestock but also provides some forward thinking about the future possibilities for agriculture in the region.
"We're examining how to remain profitable in an ever changing cropping and livestock environment, and also offering an opportunity for grain producers and graziers to hear first-hand about the latest innovations in their industries," Dr Behrendt said.
"It's also hands on with the second day allowing producers to venture into the paddock to see how some of these innovations are being put into practice on farms.
The Forum will bring together a range of speakers looking at diverse issues such as tropical grass in a central west environment, future technologies in mixed farming systems, the current state of play for grain and livestock markets, the influencer's in these markets and the outlooks.
The field trip will travel to the Wirrinya Trial site to examine lime and stubble projects, cereal and canola trials and managing mice in crops. The focus will then turn to the Mattiske's shearing shed to focus on developing more efficient livestock management systems.
The event is being organised by CSU, Regional Development Australia Central West, Central West Local Land Services and Central West Farming Systems.
Further information, including the program, can be found here.
Media contact: Fiona Halloran and Emily Malone , (02) 6933 2207
Media Note:

Further information is available from Dr Karl Behrendt on mobile 0407 112 261.
He is in the School of Agricultural and Wine Sciences at CSU in Orange.