Record lottery jackpot gives scientist pause for thought
Friday, 26 Jun 2009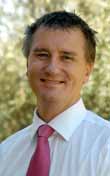 To say the odds are long when it comes to the chance of winning the largest lottery draw in Australian history on Tuesday 30 June is an understatement. Professor Nick Klomp, Dean of the Faculty of Science at Charles Sturt University (CSU), puts the chance of winning the jackpot in the $90 million Oz Lotto draw next week at one in 45 million. "If you want an even chance to win the first division just once in your life, you would have to buy a 10-game ticket every single week of your life, even when a baby," said Professor Klomp. However the CSU academic adds "oh, and you'd have to live to be over 87 000 years old". "You are much, much more likely to die from being struck by lightning than pick the seven winning numbers by playing a single game next week." Professor Klomp usually advises people to keep their money in their pocket. He sees lottery tickets as voluntary taxes for people who are lousy at mathematics, but the size of this jackpot makes it worth thinking about."In any normal week, the best way to be a winner is to put the money you were going to spend on lottery tickets into a savings plan," said Professor Klomp. "However a $90 million lottery is not normal. As soon as the first division prize goes over $50 million, the potential payback becomes worth the investment. It doesn't increase your chances of winning; it just makes it mathematically more sensible to buy a ticket." Professor Klomp is keen to point out that all of this assumes that if you win the jackpot, you aren't sharing it. "You need the potential payback to be at least 45 million times every dollar you spend. So long as you don't think it's an investment and you get your money back in fun, then go ahead and enjoy yourself," advises Professor Klomp.
Media contact: Wes Ward, 02 6051 9906
Media Note:
Professor Nick Klomp is the Dean of the Faculty of Science at CSU at Albury-Wodonga. He doesn' t usually buy lottery tickets, but may just break his own rule this week. He is available for interviews. Contact CSU Media.