CSU Wagga Wagga celebrating NAIDOC week, Because Of Her We Can
Monday, 9 Jul 2018
* CSU Wagga Wagga presented 11 2018 Charles Sturt University NAIDOC Awards
* The NAIDOC theme this year is Because Of Her We Can
* Today we celebrated Aboriginal and Torres Strait Islander women and the active and significant roles they play across the Wagga Wagga region
Charles Sturt University (CSU) is proud to be recognising women, as part of the National Aboriginal and Islanders Day Observance Committee (NAIDOC) week theme this year, Because of Her We Can.
Head of Campus at CSU in Wagga Wagga Ms Miriam Dayhew said, "For at least 65,000 years, Aboriginal and Torres Strait Islander women have been strong partners with their men in maintaining this cultural connection through generations.
"Today we have celebrated just a few of the women who continue that work in a variety of ways, and are influencing and shaping our community.
"We also acknowledge that there are many, many more local women that should be recognised, in addition to those whose stories we shared today,"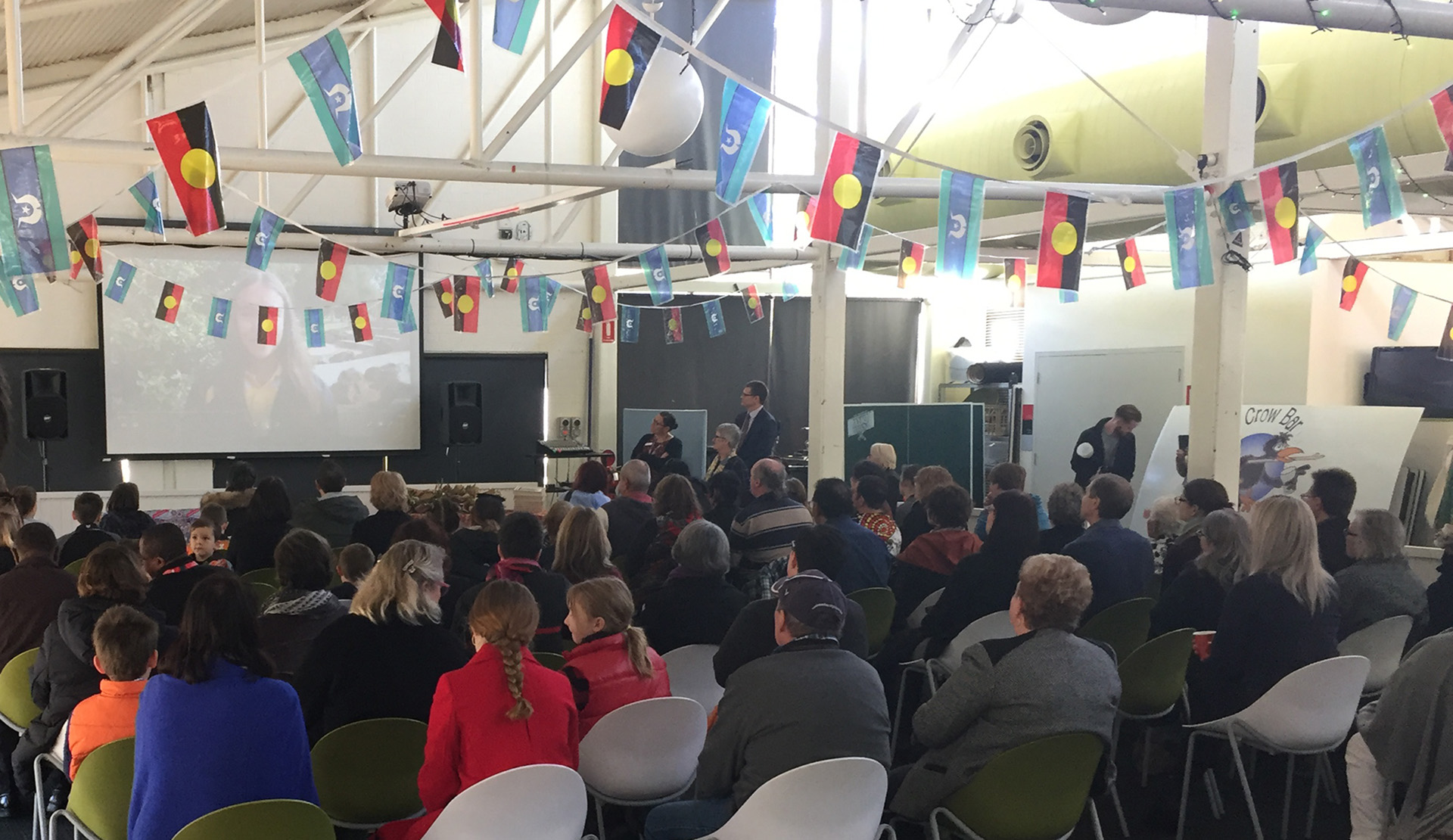 Eleven wonderful women were given awards from the Wagga Wagga region including CSU staff, students and former students, and key community members.
Dr Faye McMillan is an inspiration to all Indigenous women and mothers. She was the first registered Australian Aboriginal Pharmacist, and was a founding member of Indigenous Allied Health Australia. Dr McMillan sits on many allied health boards, and is the Director of the Djirruwang Program Bachelor of Health Science (Mental Health).
Ms Catherine Maxwell has led the development of the Reconciliation Action Plan at CSU and has shown outstanding leadership in working with stakeholders from within the University and the wider community.
Aunty Kath Withers has supported educators in early childhood services to build their capacity and confidence to implement inclusive practices. This has included sharing her experiences and knowledge with educators through team meetings, Yarning circles, weaving workshops and service visits.
Aunty Isobel Reid is a survivor of the Stolen Generation. She was taken from her family at the age of seven and sent to the Cootamundra Domestic Training Home for Aboriginal Girls.
Aunty Isobel now Chairs the Coota Girls' Corporation, and has been instrumental in the work for the survivors of the Stolen Generation. She has also been actively involved with the University and wider community through presenting her experiences as part of consultative processes.
Ms Ella Havelka is a descendant of the Wiradjuri people and a graduate of The Australian Ballet School. In 2009 Ella made her first appearance with Bangarra Dance Theatre and continued dancing with the company for three years. A documentary centring on Ella and her dance journey was released in 2016 at the International Film Festival. Ella's mother, a former CSU staff member, accepted her daughter's award on her behalf.
Ms Tenayah Kelly has shown strong leadership while on secondment in the role of Programs Officer (Indigenous) in the Away from Base team, in the CSU Division of Student Services. Tenayah is continually working to improve the Indigenous student's experience.
Ms Letetia Harris is a Wiradjuri woman who has worked relentlessly towards the restoration of the Wiradjuri language. Letetia is committed to her students, developing strong relationships, to provide each of them with encouragement, guidance and shares her cultural connection, the Wiradjuri language. The work Letetia does is described by her students as "deadly".
Aunty Robyn McMillan has recently retired from CSU as an associate lecturer in the Bachelor of Health Science (Mental Health), where she taught and mentored an all-Indigenous cohort in Aboriginal culture, Aboriginal health and mental health. Aunty Robyn was also a mature age student when she completed her studies, inspiring mature age women with families who want to study and have a career.
Ms Kristy Wickey is a mother of three, and has just graduated from a Bachelor of Nursing and is going on to do further studies to become an Indigenous midwife. It was no easy feat, however Kristy managed study and children, and never complained and always had a smile on her face. Kristy is a leading example of what is possible.
Aunty Gail Manderson completed the Graduate Certificate in Wiradjuri Language, Culture and Heritage a few years ago as a mature age student. Since completing the certificate she is giving back to her community by working in local primary schools helping to keep the Wiradjuri language alive by teaching it.
Aunty Gail is also very involved in the University. She delivers 'Welcomes to Country', visits the Indigenous Student Centre, and holds workshops on cooking and weaving.
The final award recipient was Edna May 'Mumma' Jones who opened Ngungilanna, the CSU Wagga Campus Indigenous Student Centre in September 1994. Since its opening 723 Indigenous students have graduated from CSU in Wagga Wagga.
As part of the ceremony 'Mumma' Jones's family accepted her posthumous award for her contribution to the academic success of so many CSU in Wagga Wagga students, and gave a heart-warming speech about the impact she had on so many lives.
A short student video was also shown about 'what NAIDOC means to me'.
After the formal ceremony, people took part in a weaving class facilitated by Aunty Gail, and a barbecue hosted by the Student Representative Council.
"Charles Sturt University is so proud to celebrate the history, culture and achievements of our Aboriginal and Torres Strait Islander staff, students and community members," Ms Dayhew said.
"It was delightful and an honour to be able to acknowledge and present awards to all these fabulous women who are making an impact across our communities."
Media contact: Kate Fotheringham, 63386251
Media Note:

Contact CSU Media to arrange interviews