Final 2017 Booranga writer-in-residence
Thursday, 17 Aug 2017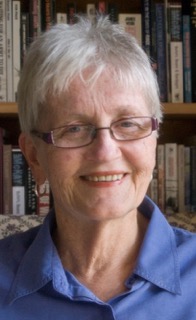 Booranga Writers' Centre at Charles Sturt University (CSU) in Wagga Wagga has named award-winning author Ms Biff Ward (pictured) as the final writer-in-residence for 2017.
Centre President and adjunct senior lecturer in English at the CSU School of Humanities and Social Sciences Mr David Gilbey said, "Biff's residency for a month from Wednesday 23 August concludes our program of multi-talented writers who have shared their skills with the writing communities of Wagga Wagga and surrounds.
"I reviewed her early feminist poems for Southerly in the early 1990s and was impressed with her insights, energy and language skills. More recently, Biff is the author of the literary memoir In My Mother's Hands, which was short-listed for the NSW Premier's Douglas Stewart Literary Prize for non-fiction 2015 and the WA Premier's Prize for 2016. It was also long-listed for The Stella Prize 2015 and winner of the Canberra Critics' Circle Award 2014 for non-fiction.
"Commentators have noted, In My Mother's Hands (published by Allen & Unwin) is a beautifully written and emotionally perplexing coming-of-age true story about growing up in an unusual family.
"In 1984, her ground-breaking book, Father-Daughter Rape, one of the first in the world about child sexual abuse, was published in the United Kingdom and the United States.
"Biff is a winner in the Griffith Review's 2017 novella competition, Storied Lives. She is currently finalising her memoir about the Vietnam War."
During her residency, Ms Ward will present a free public reading of her work at the Historic Council Chambers in the Civic Centre, Baylis Street, Wagga Wagga, from 5.15pm to 7pm on Thursday 24 August. She will be joined by local poet Mr Maurice Corlett who will be reading his new works.
Ms Ward will also present a writing workshop from 2pm to 4pm on Saturday 26 August at Booranga Writers' Centre, Mambarra Drive, at CSU in Wagga Wagga. The workshop is free to members, and a $5 donation is requested from non-members.
Read more about Ms Ward here.
Media contact: Bruce Andrews, (02) 6338 6084
Media Note:

Contact CSU Media to arrange interviews with Mr David Gilbey and Ms Biff Ward.