Mixing it up in chemistry at CSU
Tuesday, 13 Feb 2018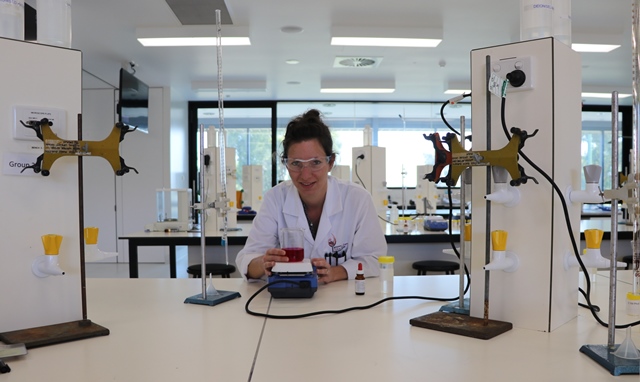 The annual HSC Chemistry Days at Charles Sturt University (CSU) in Wagga Wagga is boasting its 20th anniversary in 2018.
About 250 year 11 and 12 students from across southern NSW as well as the Central West will descend on the University's National Life Sciences hub (NaLSH) this week for a range of hands-on activities.
In addition to the popular chemistry magic shows, Faculty of Science Course Director Dr Celia Barril says the school students will have the chance to interview a number of Charles Sturt University academics about career options in chemistry and other science disciplines.
"The interactions with the academics highlight to the students the range of professions open to them - from industry to research.
"They can also realise that science is multi-disciplinary and that chemistry can be used in combination with many other disciplines, for example, the fate of anaesthetics in animals, bioactive compounds in Indigenous plants, and impact of rising temperatures on grape composition…
"The very successful HSC Chemistry Day program has been hosted by the University in collaboration with the Eastern Riverina Science Teachers Association since 1998 and spread the word about chemistry to thousands of students."
CSU offers a Bachelor of Science with majors in Chemistry, Conservation Biology, Mathematics, Microbiology and Immunology, Physics, Plant Science and Spatial Science. For more information about this course visit http://futurestudents.csu.edu.au/courses/science/bachelor-science
Media contact: Fiona Halloran , (02) 6933 2207
Media Note:

The HSC Chemistry Day will be held from Monday 12 February to Friday 16 February at the National Life Science Hub (NaLSH), building 289, near car park 25 off Nathan Cobb Drive at CSU in Wagga Wagga.
Media are invited to attend the laboratories on Thursday 15 or Friday 16 February and should contact CSU Media for further information
Media representatives must wear covered footwear and sign-in to enter the NaLSH.
Photo: CSU Faculty of Science Course Director and Senior Lecturer in Chemistry Dr Celia Barril.