New Booranga writer-in-residence to speak in Wagga Wagga
Wednesday, 2 May 2018
* Award-winning author Lili Wilkinson at Booranga to present reading and workshops
* Free Public Reading from 5 pm to 7pm on Thursday 3 May at Historic Council Chambers, Baylis Street
* Writing Workshop from 2pm to 4pm Saturday 12 May at Booranga Writers' Centre, Mambarra Drive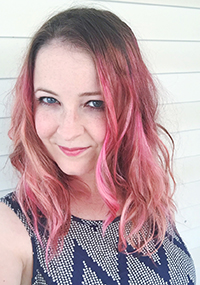 Booranga Writers' Centre in Wagga Wagga will this week welcome a new writer-in-residence, award-winning young adult author Ms Lili Wilkinson (pictured), for a two-week residency.
Adjunct senior lecturer in English at the Charles Sturt University (CSU) School of Humanities and Social Sciences in Wagga Wagga and President of Booranga Writers' Centre Mr David Gilbey said Ms Wilkinson is Booranga's second writer-in-residence for 2018.
"We try to invite writers who have published in different genres and styles at Booranga, and we're very excited to have such an accomplished 'Gen Y' young adult author coming here," Mr Gilbey said.
Ms Wilkinson is the award-winning author of eleven books, including Green Valentine and Pink. She established insideadog.com.au and the Inky Awards at the Centre for Youth Literature, State Library of Victoria. Lili has a PhD in Creative Writing from the University of Melbourne, and now spends most of her time reading and writing books for children and teenagers. Her latest novel is The Boundless Sublime.
Mr Gilbey said, "Lili's writing has received many commendations and we particularly like her interest in what might be called the 'surreal' intersections between reality and consciousness (Lili says she enjoyed and was influenced by Lewis Carroll's Alice Through the Looking Glass), especially as it affects young adult readers.
"Her latest novel, The Boundless Sublime, takes readers to some of the dark places – unhappy families, overwhelming personal sadness and the deceptive seductions of cult membership. Her characterisation is strong, and the narrative engaging.
"While at Booranga, Lili will speak to on-campus students taking the subject Australian Children's Literature, focussing on her next project about fairy tales," Mr Gilbey concluded.
Ms Wilkinson's Booranga writer-in-residence events are:
* Public Reading from 5 pm to 7pm on Thursday 3 May at Historic Council Chambers, Fitzmaurice Street Wagga Wagga; Free, but bookings essential as seating is limited. RSVP
* Writing Workshop from 2pm to 4pm on Saturday 12 May at Booranga Writers' Centre, Mambarra Drive, Wagga Wagga; cost: Free for members, a $10 donation is requested from non-members. RSVP
More information about Ms Wilkinson can be found at http://liliwilkinson.com.au/
For more information contact Booranga President, Mr David Gilbey dgilbey@csu.edu.au or Creative Director Ms Kathryn Halliwell director@booranga.com
Media contact: Bruce Andrews, 0418 669 362
Media Note:

Contact CSU Media to arrange interviews.