New poetry book launched in Wagga Wagga
Friday, 10 Mar 2017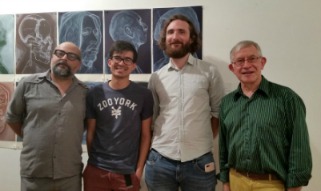 A new book of poetry by a Charles Sturt University (CSU) PhD graduate and former director of CSU's Booranga Writers' Centre was launched at the Wagga Wagga Art Gallery on Saturday 4 March.
The Only White Landscape, the second collection of poetry by Dr Derek Motion (second from right in photo), has been published by Australian poetry imprint Cordite Books (2017). It presents a series of poems that use the specific landscapes of regional NSW as a lens to investigate personal change.
"I'm really excited to see this book out in the world," says Derek Motion. "It's my second collection and it's particularly great this time to have been supported by Cordite Books, one of Australia's most reputable publishers of contemporary poetry."
The Only White Landscape was officially launched by Mr David Gilbey, poet and adjunct senior lecturer in English in the CSU School of Humanities and Social Sciences.
"Like the shaman-poet of ancient times, Derek Motion creates something out of nothing, using words to mediate between chaos and existence, speaking an imperfect, centrifugal, sometimes incomprehensible language," Mr Gilbey said. "Derek has said his poems are an 'assembly point' and his non-conclusive riddling is spell-binding."
Dr Motion now lives in Narrandera and works as a Regional Arts Development Officer, but grew up in Wagga Wagga where he studied creative writing has English (Honours) degree from CSU, going on to successfully complete a PhD at CSU on the 'poetics of failure' in Australian poetry. During this time Dr Motion worked as Director of the Booranga Writers' Centre and published his first collection of poems, Lollyology (2012).
Media contact: Bruce Andrews, (02) 6338 6084
Media Note:

Contact CSU Media to arrange interviews.
Photo by Kathryn Halliwell; left to right - Cordite CEO Mr Kent MacCarter, senior lecturer in English and poet Dr Lachlan Brown, Dr Derek Motion, and Mr David Gilbey.
The Only White Landscape cover was designed by Ms Alissa Dinallo, with the illustration by Ms Lily Mae Martin.