Students get microscopic with science
Wednesday, 16 Aug 2017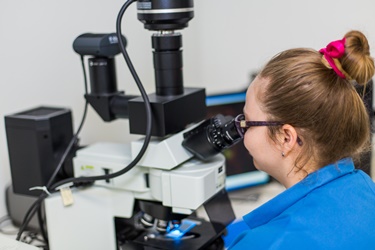 As part of National Science Week 2017, Charles Sturt University (CSU) lecturer Dr John Harper will encourage young scientists in Wagga Wagga on Saturday 19 August to get up close to everyday items using a microscope.
Joined by students from the University's Faculty of Science, Dr Harper will help children look down the lenses of digital, stereo, and compound microscopes.
Dr Harper will also demonstrate how the microscopic images can be captured on a mobile phone.
The free family event will be held from 10.30am to 12.30pm in the children's area in the Wagga Wagga City Library.
"The children should bring along something to look at through the microscopes," Dr Harper said.
"It may be a pet hair sample, a plant from the garden, or even breakfast cereal. It is fascinating how these everyday items look under the microscope."
Dr Harper is a senior lecturer in plant science in the CSU School of Agricultural and Wine Sciences.
Media contact: Fiona Halloran , (02) 6933 2207
Media Note:

For further information contact, CSU academic Dr John Harper on (02) 6933 2837.