Vice-Chancellor reappointed for another five years
Tuesday 17 Jan 2017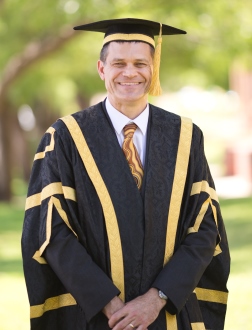 Charles Sturt University (CSU)'s Vice-Chancellor has a vision to transform the lives of more regional students and their communities, as he takes on the top role for another five years.
The University Council has reappointed Professor Andrew Vann to the position of Vice-Chancellor for a second term, concluding in December 2021.
CSU Chancellor, Dr Michele Allan said, "The University Council would like to thank Professor Vann for his leadership and achievements during the past five years and acknowledge his passion and resolute commitment to the University."
Professor Vann said, "Working in regional NSW has been enormously fulfilling for me and I am immensely proud of Charles Sturt University, its staff, students and communities."
During Professor Vann's first five year term, CSU's new Port Macquarie campus has been officially opened, the University achieved carbon neutrality, and CSU Engineering has been established to provide a unique and innovative degree firmly focused on the needs of regional Australia.
Under Professor Vann's leadership CSU has also continued to work with local communities and students to help them grow and flourish for the public good, embracing the University's ethos of 'Yindymarra Winhanganha', a Wiradjuri phrase which means 'the wisdom of respectfully knowing how to live well in a world worth living in'.
Professor Vann said the next five years will be challenging not only for CSU, but for the higher education sector across Australia.
"We are facing a very turbulent world and universities have a very important role to play in helping people understand and respond – especially given the pressures on regional Australia.
"We have done a lot of considered and visionary work to establish a six year strategy to take Charles Sturt University successfully through the next phase of its journey as a leading online and regional higher education provider," said Professor Vann.
"This strategy will be launched in its entirety later this year, however the strategic direction will be firmly focused on providing a transformational experience for our students while working closely to advance the communities in our regions.
"Alongside this, we will continue to develop our workforce to ensure Charles Sturt University continues to be a strong regional employer."
Professor Vann has hit the ground running in January with continued lobbying towards establishing the Murray Darling Medical School, another key goal in his next five year term.
People can connect with Professor Vann via twitter @drpievann or email the Office of the Vice-Chancellor.