Students graduate at CSU in Ontario
Thursday, 5 Jun 2014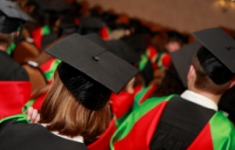 A formal graduation ceremony at Charles Sturt University (CSU) in Ontario on Friday 13 June will recognise the achievements of nearly 200 students. Distance education students and more than 150 Bachelor of Primary Education Studies (BPES) Bachelor of Early Childhood Studies (BECS) and Master of International Education (School Leadership) graduands from CSU's School of Education will receive their awards. "It is exciting to see the students in this graduating class take the next step in their careers," said CSU Ontario Provost and Head of Campus, Associate Professor Will Letts. "Each one of our students is truly passionate about teaching and learning and has so much to offer their future students, colleagues and communities. They are so well prepared and I know they are going to shine." Senator, Dr Vern White, who was awarded a Doctor of Police Leadership from CSU's Australian Graduate School of Policing and Security (AGSPS) in 2013, will address graduates, friends and family during the ceremony at the Burlington Convention Centre. CSU Chancellor Mr Lawrie Willett AO and the University's President and Vice-Chancellor Professor Andrew Vann will travel from Australia for the event. Read more about the graduation ceremony here.
Media contact: Ms Emily Malone, (02) 69332207
Media Note:
The graduation ceremony for students from CSU in Ontario will be held from 2pm on Friday 13 June at the Burlington Convention Centre, 1120 Burloak Drive, Burlington.