When two fresh-faced cadets joined the Royal Canadian Mounted Police (RCMP) 33 years ago they couldn't have predicted their paths would next cross at a Charles Sturt University (CSU) graduation ceremony.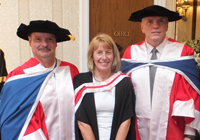 Accomplished Canadian police officers Dr Vern White and Dr Doug Abrahamson have been awarded professional doctorates from CSU's
Australian Graduate School of Policing and Security
.
Former Ottawa Chief of Police, and now Canadian Senator, the Honourable Dr Vern White has been awarded a Doctor of Police Leadership.
Dr White's research focused on tenure in a police environment and its impact on morale.
"I hope my research will provide an opportunity for other police leaders to see first hand the challenges of change and the manner in which they can alleviate some of the pain and difficulty associated with it," he said.
After serving with the Royal Canadian Mounted Police for more than 24 years and rising to the rank of an Assistant Commissioner, Dr White was the Chief of Police for the Durham Regional Police Service for two years.
A twist of fate saw Dr White re-united with Dr Doug Abrahamson, who started his career at the same time with the Royal Canadian Mounted Police, through their studies at CSU.
"Doug and I had not seen each other in 31 years and to meet up again as two of the first doctorate graduates was awesome," Dr White said.
Dr Abrahamson has been awarded a Doctor of Public Policy (DPP) for his research into the information management, behaviours, and values within three Canadian police organisations.
"My research gives police leaders a better insight into the issues that the majority of police officers face when it comes to information sharing within and across police agencies," he said. "It also identifies the key information-sharing issues that impede a police organisation's ability to be accountable, effective, and efficient within an ever-changing social, economic, and political environment."
Dr Abrahamson said studying part-time through CSU allowed him to gain an accredited doctoral degree without taking a leave of absence from work.
"As an off-shore student, I was literally continents away from my supervisor but these distances were effectively bridged through technology," he said.
Dr Abrahamson served over eight years with the Royal Canadian Mounted Police and 24 years with the Victoria Police Department (VICPD) in Canada specialising in risk management, policy analysis and planning.
He has also served as a senior research fellow with the Police Executive Research Forum (PERF) in Washington DC where he participated in a number of research projects, including port security, advanced police technology and police use of force.
Dr Abrahamson also took a leading role in the development of the Law Enforcement Organization of Planning & Research Directors (LEOPRD).
CSU Associate Dean of Policing, Associate Professor Tracey Green, said the graduation of Dr White and Dr Abrahamson represents a significant step forward for policing in Canada, as they are among the first policing related Doctorates in the country.
"Charles Sturt University's professional policing programs provide opportunities for Canadian officers to gain higher degrees in specific areas of police practice and leadership," Professor Green said. "We are working closely with Canadian law enforcement and hope that these two students will be the first of many more."