Headlines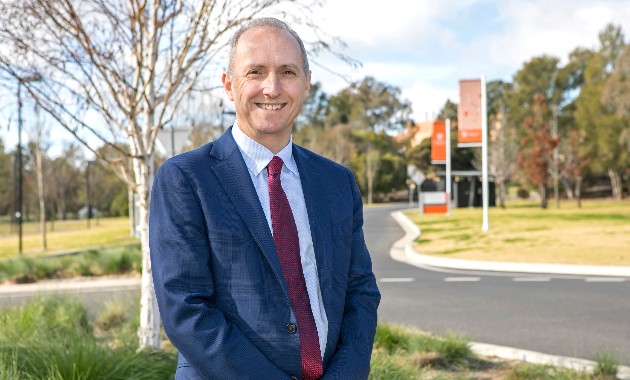 Charles Sturt's Acting Vice-Chancellor discusses some of the opportunities that lie ahead for the higher education sector and predicts more and more universities will steer towards some largely unexplored avenues of collaboration and diversification.
Charles Sturt scholarship recipient Ms Isabella Jacobson is ready to start her new job as an English teacher, shaping young minds in Bathurst.

Recent Tweets
Charles Sturt University
@CharlesSturtUni
Catch up: Congratulations to Lisa Gardner who was one of nine @nswpolice employees awarded a prestigious medal in this years Australia Day Honours. Lisa was instrumental in the restructure of the #CharlesSturtUni Associate Degree in Policing Practice.
Charles Sturt University
@CharlesSturtUni
Professor Stan Grant, the Vice-Chancellors Chair of Australian-Indigenous Belonging, writes in his latest article for @abcnews that January 26 is a reminder that Australia still hasnt reckoned with its original sin.
Charles Sturt University
@CharlesSturtUni
In brief: Isabella Jacobson grew up in Cowra. A scholarship recipient and recent graduate, she has now secured employment as an English teacher in Bathurst. Read more about her journey: bit.ly/2KKixBX
Expert in focus
Associate Professor David Smith
SPECIALTY TOPICS: Education and teaching, Teacher education, Online learning, Online assessment, Learning design, Learning and education technologies
David is a learning technologist with a PhD in the field of eLearning from Newcastle University in Australia.
He has developed a broad expertise in education through his work in schools and universities, and in recent years has specialised in the fields of learning pedagogy and technology.
David has worked on the design, development and delivery of educational programs for education authorities in Australia and Europe, and continues to conduct extensive research into the effective implementation of eLearning strategies in the education sector.
Find an expert
Charles Sturt University has a range of experts who can provide media commentary within their areas of expertise.