Nuclear power stations and underground comics = cultural heritage
Author: Fiona Halloran and Emily Malone
Publication Date: Wednesday, 27 May 2015
Touring old nuclear power stations may not be high on many European travel itineraries but it was for one Charles Sturt University (CSU) academic.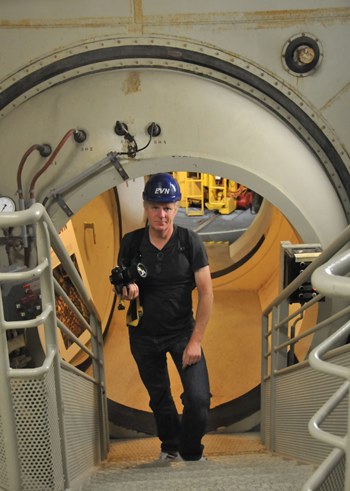 Associate Professor Dirk Spennemann from CSU's Institute for Land, Water and Society has spent his study and long service leave touring decommissioned nuclear power stations in and around Germany.
A heritage futurist, Professor Spennemann believes the power stations should be preserved because they are technologically significant and have cultural heritage values.
"A nuclear power station is not like a normal building that you can let sit and fall over, they are quite dangerous and you have to deal with that," Professor Spennemann said.
Germany, which first introduced nuclear energy in the late 1950s, has been systematically closing down its power plants, with the last station to close in 2021.
"They were at the height of technology development in Germany at the time, were a major export industry' and were totally tied up with positivist thinking at the time, that deemed the world a better place with unlimited power derived from 'clean' energy," he said.
"From a cultural perspective, they were also significant for the Greens movement and the anti-nuclear movement which crystallised around those battles against the construction of nuclear power stations."
As part of the project, Professor Spennemann secured rare access to the inside of a nuclear reactor vessel at the Zwentendorf power plant in Austria.
"These power stations are heritage in the making," Professor Spennemann said. "This is 'heritage futures' that is they will become significant in the future.
"This is the time we need to act. In Germany there is a lack of political will as no-one wants the stations. To the energy industry, they constitute a headache, a liability that they wish to dispose of a quickly as possible."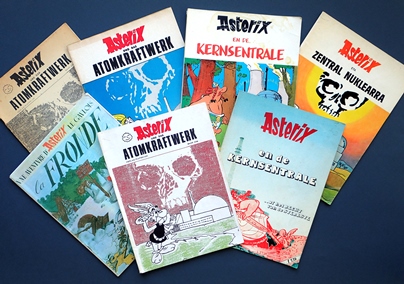 The academic has also written a study on an underground comic book, Asterix und das Atomkraftwerk, or Asterix and the nuclear power station, created from the popular French comic book series.
"Basically someone in Austria, in 1978 cut up the comic and then rearranged 20 existing volumes of the Asterix series to create a new story."
Professor Spennemann, who as a student in the 1970s bought one of the underground comics, investigated further and discovered there were multiple versions of the underground comic book, pirated and copied from each other.
In early 1979, it really took off. It was printed in German, Dutch, French, Basque and different dialects of Spanish.
"At least 150 000 copies were printed, possibly half a million, across the various languages," Professor Spennemann said.
"It really showed the need for comic relief in what was a fairly serious nuclear energy debate."
"The comic booklet was possibly one of the biggest underground publications at the time and is highly significant as a cultural icon."
Professor Spennemann's study, including an in-depth catalogue of the comics, will be produced as an e-book by an anti-nuclear group in The Netherlands.
There are also plans to have a small exhibition of a selection of the actual volumes in Amsterdam mid-year.
ends
Media contact: Fiona Halloran and Emily Malone , (02) 6933 2207
Media Note:

Associate Professor in cultural heritage management Dirk Spennemann is in the School of Environmental Sciences at CSU in Albury-Wodonga. He is also a member of CSU Institute for Land, Water and Society.
He is available for interviews. Contact CSU Media
A full interview with Professor Spennemann by Ms Margrit Beemster can be seen in the latest ILWS newsletter Connections here.
Photos: Associate Professor Dirk Spennemann inside AKW Zwentendorf. Courtesy of EVN
Asterix under das Atomkraftwerk. Courtesy of Associate Professor Spennemann.