International volunteering opens student's eyes
Author: Fiona Halloran
Publication Date: Thursday, 1 Nov 2012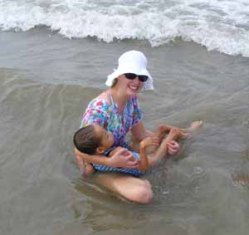 It's been quite a year for Charles Sturt University (CSU) student Ms Madeline Jensen.
She has spent 2012 completing a degree, volunteering in a Vietnamese orphanage for children with disabilities and applying for work as a medical radiation scientist.
Ms Jensen was one of three students from across CSU to be awarded an inaugural Residence Life International Travel Scholarship from CSU in 2012.
The Bachelor of Medical Radiation Science student used her scholarship to volunteer in a Vietnamese orphanage during a fortnight long trip to the Southeast Asian country during her university break in June.
"The Red Cross orphanage in Da Nang on Vietnam's south central coast is home to about 10 babies, toddlers and pre-school-aged children with disabilities," Ms Jensen said. "Through a program run by Global Volunteer Network, I went to the orphanage with other volunteers from Australia, New Zealand and Holland.
"We would spend a few hours each day during the week washing the children, feeding them and playing with the little ones as well as exercising their minds and bodies. We would take them to the Da Nang beach for a swim, which they loved.
"We stayed in a local house in Da Nang. The accommodation was fairly basic and the lack of air conditioning in the hot and humid June made life interesting," Ms Jensen added.
The CSU student, from the Riverina town of Narrandera, also spent her time as a volunteer in a social centre in Da Nang which offers support to older people with disabilities. She visited pre-schools and a local university to help local students to practise their English.
"It was hard to come home and get back into study. I got so connected to the children (in the orphanage) as they are so beautiful."
Ms Jensen says her solo trip to Vietnam was different to her previous travel experiences in New Zealand, Fiji and Japan.
"This trip, where I was immersed in the culture, was a fantastic thing to do and has really opened my eyes to the world."
In addition to just completing her final exams at CSU in Wagga Wagga, Ms Jensen is about to complete a second year as a Residential Adviser (RA) offering support and leadership to other students living on campus at CSU in Wagga Wagga.
"Being a Residential Adviser has given me opportunities I wouldn't have normally had such as the Residence Life scholarship."
For now, Ms Jensen is coming to terms with the end of her undergraduate studies, an offer of employment as a health professional in Hobart and a graduation ceremony at CSU in Wagga Wagga in December.
"I would love to go back (to Vietnam) and I will keep in contact with my Vietnamese friends."
Editor's note:
Ms Madeline Jenson is due to graduate with a Bachelor of Medical Radiation Science from the School of Dentistry and Health Sciences at CSU in Wagga Wagga on Monday 10 December.
The Residential Advisers are part of Residence Life at CSU.
For queries about Residence Life or the International Travel Scholarships, contact 1800 ASK CSU for current CSU students or 1800 334 733 for future student enquires.
CSU Global is an initiative of the University to encourage students to take up international study opportunities.