CSU nursing students experience Peruvian culture and health system
Author: Bruce Andrews
Publication Date: Monday, 23 Jul 2018
* CSU nursing work placement study tour to Peru provided an all-encompassing international perspective of nursing
* Contrast of Peruvian and Australian health systems provided insight and inspiration, and boosted students' cultural competence and awareness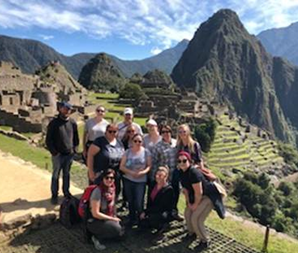 A group of Charles Sturt University (CSU) nursing students have returned from a successful two-week work placement study tour to Cusco in Peru.
Students in the CSU School of Nursing, Midwifery and Indigenous Health were led by nursing lecturer Ms Cathy Maginnis (CSU in Dubbo), and CSU Global assisted the study tour.
Ms Maginnis said the international placement in Cusco was both thought provoking and challenging, and led to a lot of discussion and reflection by the group.
"The language spoken in Peru is predominantly Spanish so we had a team of interpreters to assist us to overcome this barrier, but it was difficult to communicate with the patients and staff as we would in Australia," she said.
"The health care system in Peru is very different to Australia, with a limited health budget reflected in the equipment and maintenance of the hospital. Supplies and medication are sparse, and many patients are required to pay for treatment before it is given, something that we take for granted here in Australia."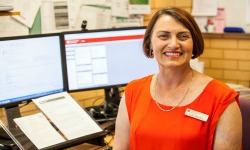 Ms Maginnis (pictured left) explained that nursing staff in Peru work long hours, with a lower wage than their counterparts in Australia.
"Electricity is expensive so there is no heating and hot water is a rarity," she said. "Hygiene is different to Australia due to these difficulties, and with limited supplies of gloves and masks with staff needing to provide their own and reuse them.
"The students and I certainly were thankful we have the facilities, health care and standard of living that we do and realise just how lucky we are to live and work in Australia."
Third-year nursing student and Port Macquarie resident Mr Simon Ross said volunteering as a student nurse in Cusco has allowed him to experience another culture and health system first-hand.
"The people of Peru are warm and accepting, and willing to exchange ideas," Mr Ross said.
"As nurses we're trained with a common goal − to do no harm and facilitate wellbeing. In Peru, I was able to witness this first-hand as the nurses and doctors using what limited resources they had treated patients who were grateful for whatever care they received.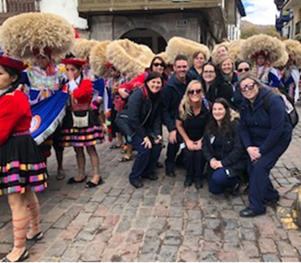 "As nurses in Australia we are exposed to many cultures in the comfort of our own country, but to be immersed in another culture thousands of miles from home really is an awakening experience," he said. "Without a doubt, it makes the problems we experience in Australia slip into insignificance when compared with daily healthcare in Peru.
"My career aspirations have always been to be an emergency nurse. This trip has inspired me even further to increase my skills in both clinical and leadership roles, and has ensured that I will return to Cusco to volunteer in a hospital emergency department as a registered nurse in the future."
CSU nursing student Ms Kaylene Mowat said, "The time spent working with the children in the district outside Cusco was not just a learning experience for them, but also for us. It really opened my eyes to how much of a difference basic health care skills can make, and how by spending just a couple of hours with these children meant so much.
"It also showed that nursing is not always hospitals, operating theatres and emergency departments; it is also about taking the time to teach and to empower a person to be able to look after their own health and give them the tools needed for the future.
"For me it has made me rethink my nursing practice to ensure it is one that includes teaching more and being less task orientated. We live in a very fortunate country with a wonderful medical system that does not get used to its full advantage because we are always rushing."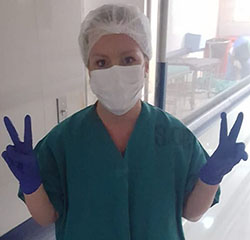 Student Ms Netasha Pearse (pictured left scrubbed-up in a Cusco hospital, and below at Machu Picchu) said the study tour placement provided an all-encompassing perspective of nursing from an international perspective.
"We had the opportunity to attend medical workshops that gave us a deeper insight to the history, poverty, political and health factors that impact upon the people and country of Peru," Ms Pearse said.
"Access to clean drinking water and power is minimal and the financial scale is poverty or extreme poverty. We got to work with infectious diseases such as tuberculosis (TB) and HIV that gave us a deeper understanding to people whom migrate from overseas to Australia that we may attend to in the health-care setting.
"Women are subject to femicide, and the children we got the opportunity to work with often die from preventable diseases such as bronchitis and pneumonia. The love the Peruvian people have for one another, their history and country are inspiring. I had the opportunity to stay with a local Peruvian family who were able to expand upon these issues which gave a deeper understanding and insight from a local perspective.
"The main highlight was I had the opportunity to scrub-in for a caesarean section and witness the miracle of life! So amazing.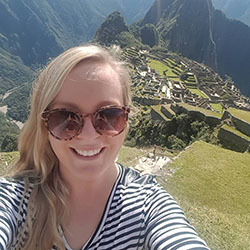 "This opportunity was an invaluable experience that has aided in the future development of international health perspectives for me personally. This experience has had a positive impact upon how I will apply cultural competence and awareness to help other cultures in my future career as a registered nurse in the health-care setting."
Ms Maginnis said the group also visited many Inca ruins and learnt about the history from Inca to Spanish invasion and the religious influence in Peru.
"Machu Picchu was the highlight of the trip and the journey to the Sacred Valley was amazing by private van and then by train with snow on the Andes in the distance," Ms Maginnis said. "The climb and views at Machu Picchu were well worth it and were breathtaking.
"Being hosted by families was another wonderful experience and certainly meant we were immersed in the culture, learnt some Spanish, and became culturally aware."
ends
Media contact: Bruce Andrews, 0418 669 362
Media Note:

Contact CSU Media to arrange interviews with Ms Cathy Maginnis and the students.