* CSU ranked eighth in Australia for 'First-Generation' students
* Students tip practical learning, course offerings and accessibility as key for making Top 10
* 34 per cent of CSU students qualify as 'First-Generation'
Charles Sturt University (CSU) was acknowledged nation-wide for its outstanding results based on national survey data in The Good Education Group's Good Universities Guide earlier this week. Among the results, CSU gained a five-star rating and ranked number eight in Australia for 'First-Generation' students.

The 'First-Generation' rating category was a brand new feature to the 2019 guide, comparing universities by the proportion of the student cohort who are the first in their family to pursue tertiary education.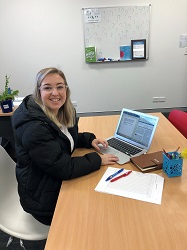 Among the 34 per cent of CSU's 'First-Generation' cohort, Bachelor of Social Science (Psychology) student and Bathurst local Ms Jessica Hopwood (pictured left) said that geographic location and accessibility to staff made it easy for her to select CSU.

"Location certainly played a big part for me regarding which university I applied for. Being able to study in my hometown and having access to lecturers face-to-face when I need, while getting the extra support from my family at home makes a huge difference," Ms Hopwood said.

The youngest of four children, 'First-Generation' Ms Hopwood is about to transfer over to the Bachelor of Psychology for her fourth year this semester and is currently completing some volunteering as part of her course at headspace in Bathurst.

While location and accessibility was a leading factor for 'First-Generation' students, course offerings also generated a theme among the cohort.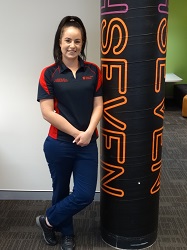 Bachelor of Nursing-Graduate Diploma of Clinical Practice (Paramedic) student Ms Lydia Clarke (pictured left) said that she has always wanted to be a paramedic and the fact that she can combine both nursing and paramedicine in the double degree will not only enhance her skills but entice future employers.

"It was the natural decision for me to choose Charles Sturt University to complete my studies because of the double-degree offered. I've been lucky to complete some practicals in the region, which has helped me build good industry relationships and get a direct insight into regional nursing and paramedicine," Ms Clark said.

A detailed breakdown of the 'First-Generation' data can be located via The Good Education Good University Guide 2019, and much of the underlying data is publicly available via the QILT website.