* CSU students working in the Pilbara alongside government and industry
* CSU collaborates with the WA Department of Biodiversity, Conservation and Attractions for research project
* Projects focus on 'denning' requirements of female northern quolls
Charles Sturt University (CSU) students involved in a collaborative research project in the Pilbara region of Western Australia recently shared in the discovered a rare albino northern quoll.
The research is conducted with the Western Australian Government's Department of Biodiversity, Conservation and Attractions (DBCA) in conjunction with monitoring work on DBCA's Pilbara Northern Quoll Research Program.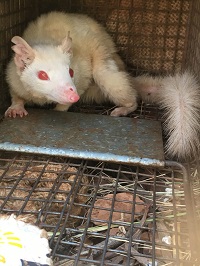 The albino quoll was discovered south of Port Hedland in Western Australia's Pilbara region initially by DBCA's research scientist Dr Judy Dunlop.
The news travelled quickly to the rest of the research party at the site which included CSU PhD student Mr Harry Moore and Honours student Mr Mitchell Cowan, with Ms Harriet Davie, Specialist Biological Sciences at Roy Hill.

Mr Moore, a PhD student with the CSU Institute for Land, Water and Society who is completing a project to quantify the niche habitat of the northern quolls, as well better understanding predator associations. He said that the primary objective of the field trip was to locate maternal dens being used by northern quolls with young.

"Once we locate the dens we deploy a series of long-term temperature and humidity sensors as well as motion-detection cameras to determine what makes these dens desirable for mothers to raise their young in," Mr Moore said.

"By comparing occupied dens with unoccupied and artificial dens, we hope to improve our definition of what is critical habitat for northern quolls and thus prioritise management efforts in protecting these areas."

CSU Honours student Mitchell Cowan who is completing his thesis as part of a Bachelor of Environmental Science and Management said that this field trip was a highlight with many quolls found, as well as the fact there were so many healthy breeding females and of course the discovery of the albino northern quoll.

"When we saw the albino northern quoll for the first time we were all so amazed," Mr Cowan said. "It was definitely an 'eye-catcher' due to its appearance compared to the more common northern quoll colouring.

"Despite this, it still showed the classic spots seen on northern quolls, however in a paler and creamier colour than usual."

Associate Professor Dale Nimmo, an ILWS researcher and lecturer in the CSU School of Environmental Sciences in Albury-Wodonga said it is particularly rewarding for CSU students who are completing their PhD and Honours year to be involved in research and a 'discovery' like this.
He admits he lives vicariously through his students undertaking research field trips.

"Those students completing Honours or a PhD can take hold of their research project and, with the help of their supervisors, engage in world-class research," Professor Nimmo said.

"The fact that Harry and Mitchell were a part of the discovery of the albino northern quoll while I was some 4,000 kilometres east working in my office in Albury is truly amazing. Hopefully, I will make it out to the Pilbara early next year."