* CSU research has found deficit irrigation increases olive oil extraction efficiency and enhances fruit ripening
* Selecting the right time to restrict irrigation water saves money while maintaining crop efficiency
* CSU has extensive olive grove to demonstrate new ideas in managing olives
As drought grips South Eastern Australia it's timely to consider Charles Sturt University (CSU) research showing withholding irrigation at particular stages of olive growth can save water without reducing oil content and quality.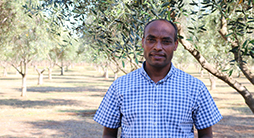 The research by Dr Ketema Zeleke (pictured left), an irrigation and water management expert with the CSU School of Agricultural and Wine Sciences and Graham Centre for Agricultural innovation, was presented at the 2018 National Olive Industry Conference in Wagga Wagga.
Dr Zeleke has conducted several studies on the effects of deficit irrigation on olives and oil production and believes the practice is an important part of solving the increasing issue of water availability for crops.
"A deficit irrigation strategy that reduces or completely withholds irrigation during a particular stage of crop growth, such as during pit-hardening in olives, may allow considerable savings in irrigation water without reducing fruit oil content reduction or fruit quality," Dr Zeleke said.
"Our studies showed that withholding irrigation during the pit-hardening period in mid-December to mid-January reduced the fruit size of only three of the eight olive varieties and had only minor effects on oil contents, while saving 35 percent, or 1.6 ML, of irrigation water.
"Applying only half of the irrigation requirement during this period resulted in 17.5 percent (0.8 ML) water saving with only minor effects on fruit size, timing of maturity and oil content.
"In short, we found that deficit irrigation increases oil extraction efficiency and enhances fruit ripening," he said.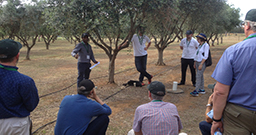 During a walk in the CSU olive grove on Friday 19 October, Dr Zeleke also discussed the opportunities that soil water measurement equipment presents to growers for irrigation scheduling and fertiliser application.
"With more than 20 olive varieties growing, the CSU olive grove offers a field laboratory where scientists and growers can observe and share ideas on different aspects of olive management," Dr Zeleke said.
"During the grove walk we were able to demonstrate the soil water measurement equipment, providing an interactive learning opportunity."
The NSW Department of Primary Industries (DPI) Wagga Wagga Agricultural Institute is home to an internationally accredited oil testing laboratory and the only sensory panel in Australia accredited by the International Olive Council.
CSU has also developed state-of-the art analytical instrumentation in the National Life Sciences Hub at its Wagga Wagga campus.