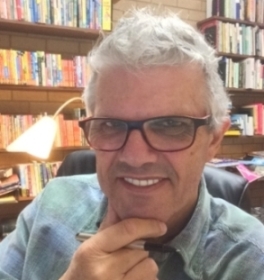 Leading international experts will speak at the 2016 Australasian Children's Literature Association for Research (ACLAR) conference at Charles Sturt University (CSU) in Wagga Wagga in mid July.
Senior lecturer in English in the CSU School of Humanities and Social Sciences and convenor of the conference Dr Mark MacLeod (pictured) said the theme of ACLAR 2016 is 'Shifting Landscapes: Diversity, Text, Young People', and the three keynotes speakers are among the most highly-respected in the field.
"With the resettlement in the Riverina of families from all over the world, as well as tree-changers from all over Australia, the topic of diversity could hardly be more relevant, or more urgent given the recent tragic massacre in Orlando, Florida," Dr MacLeod said. "How are these changes being reflected in texts for children and teens? We're saying 'texts' because the discussion will include not just 'literature' in the sense of books, but film, TV, illustration, websites and so on."
Dr MacLeod said each of the conference keynote speakers generates lively discussion at any forum they contribute to.
"Professor Kenneth Kidd (University of Florida) is one of the leading United States researchers and the chair of the peak body the Children's Literature Association," Dr MacLeod said. "This is Professor Kidd's first visit to Australia, and we're particularly pleased he is going to be here as he will celebrate his 50th birthday while he is here.
"Also speaking is Dr Irini Savvides, judge of the Australian Prime Minister's Literary Awards and herself a much loved novelist for teens (Willow Tree and Olive, Sky Legs). Charles Sturt University students study her work, so the conference is a great opportunity for them to meet her.
"Professor Erica Hateley is the third keynote speaker and an Australian who has recently been appointed to a professorial chair at the Norwegian University of Science and Technology. She is an outstanding speaker, often controversial, and has spoken at conferences around the world."
Dr MacLeod said CSU is rapidly becoming known as a centre for children's literature studies since his academic colleague Mr David Gilbey convened the first-ever ACLAR conference at CSU many years ago.
"The ACLAR conference has been held every two years since and I am the convenor for its return to Wagga Wagga, with lots of help from David and a great team of undergraduate and higher degree research students," Dr MacLeod said.
"From a solid foundation in children's literature studies established by David Gilbey, Charles Sturt University has five undergraduate subjects in the Children's Literature Minor being offered at Wagga Wagga, Albury-Wodonga, Bathurst, Port Macquarie, and to online students. In addition, we have several Bachelor of Arts (Honours) students specialising in children's literature and three PhD candidates."
The conference will also feature a plenary session on the vision for Indigenous Studies at CSU, to be presented by Mr Stan Grant Jnr and Indigenous Academic Fellow in Humanities, Reverend Karen Kime.
The conference will be held at the Convention Centre at CSU in Wagga Wagga from Wednesday 13 to Friday 15 July. It begins with a smoking ceremony and Welcome to Country, and then Dr Cate Thomas from the School of Humanities and Social Sciences will welcome delegates to CSU as both a representative of the LGBTI community, and the diverse CSU community generally.
"I am particularly pleased that this welcome is a practical demonstration of the embracing of diversity at Charles Sturt University," Dr MacLeod said. "This decision was made long before the tragic events in Orlando, but has only gained in significance since."
Registration is still open and can be accessed here: https://register.eventarc.com/33423/2016-biennial-conference-of-the-australasian-childrens-literature-association-for-research.​ The draft program and a flyer about the keynote speakers are available upon request. Students who wish to attend ACLAR 2016 can do so at a single day price of $75 and if they need financial assistance they should apply to Ms Leah Ellis via leah.catherine.ellis@gmail.com.