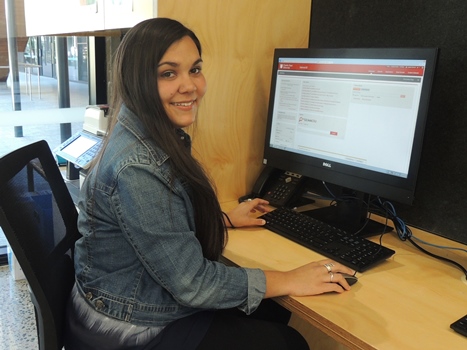 Ms Leteah Mitchell has a lot to say about the transformational power of education.
And rightly so. The Charles Sturt University (CSU) student was this year named the Aboriginal and Torres Strait Islander Student of the Year at the 2016 NSW Training Awards in Sydney.
The Bachelor of Social Work student Ms Mitchell, from Taree on the NSW Mid North Coast, has a clear articulated passion for education and a desire to assist people facing disadvantages.
Ms Mitchell completed a Certificate IV in Community Services at North Coast TAFE in 2015 at the same time as being enrolled in the CSU's social work program at Port Macquarie.
During her second year of study in 2016, the proud Biripi woman divided her time between the University in Port Macquarie and the Taree TAFE campus.
Ms Mitchell is the first in her family to attend university. Since starting her studies, she's inspired three members of her family to enrol in further education and training.
"I think that education is important because it is powerful," Ms Mitchell said.
"Through education you both learn a lot about yourself, you grow and you develop skills that will help you to help other people.
"Education helps you to create change and it's especially important in empowering future generations to come.
"Attending University has been one of my biggest goals and feel very privileged and blessed to be able to receive the education I am receiving."
CSU's new campus on the NSW Mid North Coast will be officially opened by the Hon Luke Hartsuyker MP tomorrow, Thursday 17 November in Port Macquarie. There will also be a Community Open Day from 10am on Saturday 19 November.
She describes her new title as 2016 Aboriginal and Torres Strait Islander Student of the Year as a 'thrill" and a 'surprise'.
Ms Mitchell said, "The CSU-TAFE integrated social work program has been really good for me. My TAFE studies have given me more confidence to take on higher education.
"I know I have chosen the right career as I want to help people fulfil their goals, especially empower Indigenous people."
"My advice to other people considering further education is never let anyone limit what you can do because you can do more than you think. You will always be more."
Course Director of social work at CSU Dr Cate Thomas said, "Leteah's determination has been an incredible asset to her achievements. She's an exceptional ambassador for the community and the Charles Sturt University.
"I congratulate Leteah and encourage others to explore the higher educational options and pathways that are available to them to reach their goals"
CSU offers a range of pathways to the Bachelor of Social Work, including on campus and through CSU Online. Read more here.
Lecturer in social work and human services Mr Garth Norris said Leteah's remarkable personal achievement is a testament to the value of the partnership between Charles Sturt University and TAFE through its integrated programs.
"I am thrilled to see Leteah being recognised in this way for all that she has accomplished in her community and in the course to date," he said.