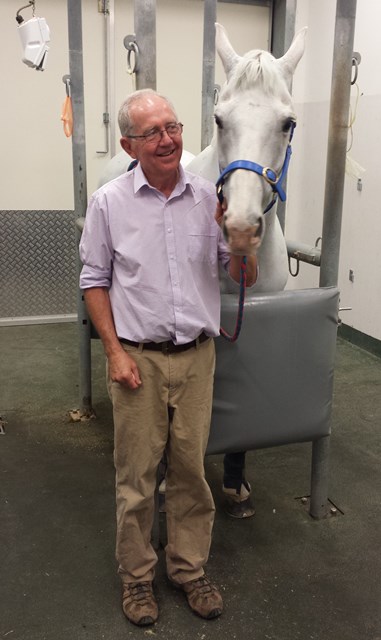 A trial is underway at Charles Sturt University (CSU) to develop a therapeutic vaccine to treat melanoma in grey horses.
At the University's Veterinary Clinical Centre in the School of Animal and Veterinary Sciences in Wagga Wagga, equine surgeon Associate Professor Bryan Hilbert is working with a biotech company in Sydney company to trial a therapeutic vaccination.
"While we are only in the very early stages of the trial, our aim is to develop a vaccine to trigger an immune response in horses, particularly grey horses," Professor Hilbert said.
Loading...
"Melanomas are very common in adult grey horses with 80 per cent suffering from this type of cancer.
"Current therapies including freezing the tumours, chemotherapy, and surgery have met with only limited success.
"However, these are our only treatment options, and the tumours usually re-appear.
"Owners of affected horses have responded positively to trying new forms of treatment because they may extend the life their valuable animals," Professor Hilbert said.
Initially a biopsy is taken from the horse at the University. The sample is then sent to Sydney manufacture the vaccine. It is then administered to the horse every three weeks for three months.
"We are keen to hear from more horse owners who'd be interested in participating in the trial," Professor Hilbert said.
Staff at the CSU Veterinary Clinical Centre can be contacted by telephoning (02) 6933 2604 or send an email to vcc@csu.edu.au.
The Veterinary Clinical Centre is part of the School of Animal and Veterinary Sciences at CSU in Wagga Wagga. Staff provide a first opinion and a referral service for horse owners and veterinarians, and a referral service for farm animals. It is open from 8.30am until 4.30pm from Monday to Friday, and provides an after-hours emergency service at night and on weekends 0419 385 049. Appointments can be made by telephoning (02) 6933 2604 or emai lvcc@csu.edu.au