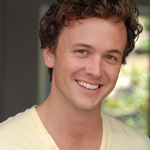 Charles Sturt University (CSU) theatre/media graduates who recently performed at the Adelaide Fringe Festival in South Australia were assisted by the first disbursement from The Blair Milan Fund through the CSU Foundation Trust.
The physical theatre show featured performers Ms Lou McDonald, Mr Will Tredinnick and Mr Shem Purdy, with director Ms Romy Clugston and stage crew Ms Jess Collins and Ms Lucy Harrison.
Mr Dan Aubin, lecturer in theatre/media, said, "This wonderful memorial fund enables Charles Sturt University theatre/media students to take a final-year production to locations and venues that give them national exposure which would either be impossible or otherwise very difficult. It is a great boost to their early emergent careers, and truly honours the memory of our talented graduate Blair Milan. We acknowledge and thank the wonderful contribution of Mrs Lyndey Milan and the many alumni and other supporters of this
CSU Foundation Trust
scholarship initiative."
Following the premature death of Mr Blair Milan, a young CSU alumnus, actor and TV personality, who died from acute myeloid leukaemia on Sunday 17 April 2011, a
memorial fund
was established to benefit future CSU theatre/media students. Blair died shortly after completing filming a food and travel TV series with his mother,
Lyndey and Blair's Taste of Greece
, which was subsequently broadcast on SBS TV.
A ceremony will be held on Friday 31 May to announce and celebrate the recipients of the 2013 CSU Foundation Trust
scholarships
.