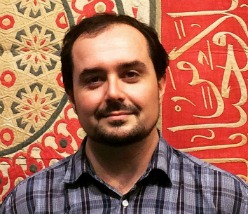 Charles Sturt University (CSU) offers a unique opportunity for students to study Islamic art in Malaysia.
The 2018 CSU Malaysian Expedition: Immersion in Islamic Art offers up to 16 subsidies for Australian students under the age of 28, reducing the cost of the journey to just $500.
Expressions of interest from students close on Friday 1 September.
Dr Sam Bowker (pictured), lecturer in art history and visual culture in the CSU School of Communication and Creative Industries in Wagga Wagga, said, "No other Australian university teaches a subject surveying Islamic art and design.
"This rare opportunity provides unique hands-on access to a remarkable collection. It includes calligraphy, architecture, textiles, ceramics, metalwork and glass, unlike any in Australia."
Dr Bowker explained that in 2016 CSU was awarded a $60 000 grant from the Australian Government's New Colombo Plan, a Department of Foreign Affairs and Trade initiative designed to support young Australians to form new connections across the Indo-Pacific region.
"This has been used to subsidize a unique 'Immersion in Islamic Art' program, in which Charles Sturt University students serve as scholars-in-residence at the Islamic Art Museum Malaysia (IAMM) in Kuala Lumpur," Dr Bowker said.
"Two students from the 2017 expedition, Ms Lainie Edwards and Ms Nicci Parry-Jones, have since returned to develop an interpretative trail for the IAMM, highlighting the use of birds in Islamic art.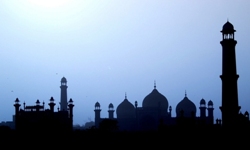 "Over two weeks the students will travel through Kuala Lumpur, Putrajaya, Malacca and Penang, studying art handling, conservation, interpretation, as well as the contemporary art, design and heritage of Malaysia.
"This tour is a must for anyone with a keen professional or academic interest in the history, collection, preservation, appraisal and exhibiting of art, design, architecture, food, costume, textiles, South-East Asian and Islamic visual cultures in particular."
The students will be accompanied by Dr Sam Bowker, who also curated an exhibition on the spectacular history of the Egyptian Tentmakers for the IAMM in 2015.
2017 program participant Ms Parry-Jones said, "The Malaysia Islamic Art Program was a magical and unique experience that exposed participants to unforgettable personal and valuable professional insights not available through usual study. This was a wonderful chance to discuss aspects of Islamic art and design with museum staff, and later to view the architecture of the mosques and temples of Malaysia and learn how these relate to the various cultural groups living within the country."
To apply, students need to enrol in ART240 and register an expression of interest with CSU Global by Friday 1 September through http://bit.ly/Malaysia_Art