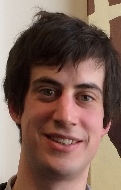 A Charles Sturt University (CSU) PhD candidate's painting has been selected as a finalist in the 2015 Archibald Art Prize at the Art Gallery of New South Wales in Sydney.
Mr Tony Curran (pictured), a PhD candidate in the CSU School of Communication and Creative Industries in Wagga Wagga, is one of 47 finalists selected from 800 entries in the 2015 Archibald Prize. His portrait 'Luke' is of Wagga Wagga resident Mr Luke Grealy, manager of the Museum of the Riverina, the region's social history museum.
Mr Curran said it's a huge career milestone for him to be included in an institution that is so close to the heart of the Australian art world, and is both humbling and very encouraging.
"This is the first time I've been selected for the Archibald Prize, and it's also the first time my work will have been shown in the prestigious space that is the Art Gallery of New South Wales," Mr Curran said. "At the same time gives me the opportunity to test my work in front of a huge audience among some of Australia's best contemporary painters."
Mr Curran said his portrait subject is well known in the Wagga Wagga community.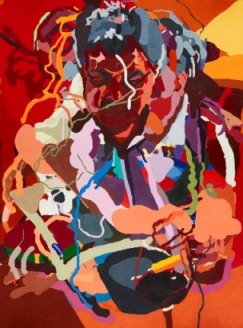 "Luke has been amazing to my wife and I since we moved to Wagga, having us round for dinner regularly, and even sourcing an amazingly hospitable refuge for us when the city was evacuated during the 2012 flood," Mr Curran said. "When I took the work to the courier to be sent to the Art Gallery of New South Wales the courier asked who I'd painted. I said, 'Luke Grealy, do you know him?' and he said, 'Oh yeah!'. I'm so glad that Luke is among the distinguished Australians on show in this year's Archibald Prize."
In 2014 Mr Curran's portrait of his partner Ms Sonya Gee was selected as a finalist in the Brett Whiteley Travelling Art Scholarship and was exhibited at the Brett Whiteley Studio in Sydney. Another of Mr Curran's works, 'Dr Doris McIlwain (Ouroboric #2) 2014', was selected for exhibition in the 2014 Archibald's Salon des Refusés where it was shown at the SH Ervin Gallery.
"It was hung in the company of great Aussie painters including the legendary Jenny Sages, David Fairbairn, Leslie Rice, Nicholas Harding, and others," he said. "Similarly, being exhibited in this year's Archies with other finalists like Richard Bell, Sophia Hewson, Andrew Sayers, Mitch Cairns, and Prudence Flint, gives me even more confidence in my work and the opportunity to see how it stacks up."

Mr Curran's PhD supervisor, Dr Neill Overton, an Associate Head of the CSU School of Communication and Creative Industries and senior lecturer in art history and visual culture, congratulated him on achieving so highly and so prominently at this timely point of his PhD submission.
"Tony has been undertaking a PhD in practice-as-research mode at Charles Sturt University in Wagga Wagga over the past three years, and it is currently under assessment," Dr Overton said. "This means the assessment is fundamentally by gallery exhibition as the final outcome, accompanied by a written doctoral thesis."
Dr Overton said since 2001 Charles Sturt University has been extremely supportive of PhDs undertaken in practice modes by arts practitioners in painting, printmaking, drawing, design, textiles, photography, performance, and art and design-related disciplines where the exhibition or performance outcome generates new knowledge and adds to the discourse in those fields.
"The portrait's inclusion as a finalist in the 2015 Archibald Prize is an achievement not only for Tony, as a culmination of his PhD enrolment, but it is a continuing validation of the legitimacy of 'practice as research' at Charles Sturt University," Dr Overton said.
"Tony's research has been into the portrait in art, and its approach through painting, drawing and new media forms, both as history and as investigation into the contemporary psychology of representation.
"This national level recognition of his painting is an outstanding endorsement of the continuing legitimacy of art making as a PhD-worthy form of 'non-print thesis', in a university realm where so often the written word is seen as the only form of research conduct."