* First national conference that focuses solely on actor training
* Regional significance due to its focus on methods developed in Australia
* An event to celebrate the newly renovated CSU Riverina Playhouse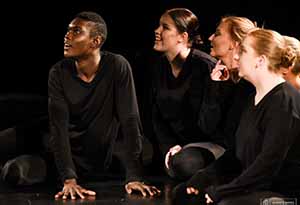 In September Charles Sturt University (CSU) in Wagga Wagga will stage the inaugural Australian Actor Training Conference (AusAct), the first national conference about how acting is taught.
The two-day conference on Saturday 1 and Sunday 2 September is intended for performers, acting and performance teachers, drama teachers, acting, theatre and performing arts academics, and voice and movement teachers and academics.
Dr Robert Lewis, lecturer in acting for stage and screen in the CSU School of Communication and Creative Industries in Wagga Wagga, said, "This inaugural conference is the first national event to focus solely on actor training.
"The event allows nationally and internationally recognised actor training teachers and academics to share ideas, and to showcase their work and research."
This two-day conference will have three main sections: Conference, Training and Performance.
In the 'Training' section, professionals will hold workshops based on their research and practice.
The 'Performance' section will see public performances by performance practitioners who identify as having a unique place in the Australian performing arts industry through their development of new, original work, or original processes.
"The training and performance event is a presentation of actor training scholarship by researchers, practitioners and pedagogues working with original performer training methods developed within the Australian context," Dr Lewis said.
"The focus on Australian actor training pedagogies and research and its relationship to place, space, land, environment, culture and technologies will provide an avenue for the sharing of original materials and knowledge in dialogue within the Australian performer training context. The conference aims to celebrate, interrogate and showcase actor training methods that have been created and developed in Australia."
The conference will include individual papers (20 minutes duration), workshop sessions (up to 90 minutes duration) and panel presentations (60 minute duration). In addition to the formal proceedings of the conference, there will be a panel discussion by academics and practitioners.
"These panel discussions are designed to provide an opportunity for the audience to hear the contributors' present information and discuss personal views on the topic of Australian actor training," Dr Lewis said. "This discussion may help the audience further clarify and evaluate their positions regarding specific issues or topics being discussed at the conference.
"We are also having a panel dedicated to Indigenous performance practice featuring academics from the Western Australian Academy of Performing Arts, the Aboriginal Centre for Performing Arts, and Macquarie University.
"The discourse that is generated from the conference will confirm that the arts play a vital role in shaping our culture and building communities, and contribute to economic growth."
Dr Lewis said the stage and screen department at the CSU School of Communication and Creative Industries in Wagga Wagga is well positioned in this field.
"My colleague Dr Dominique Sweeney and I are developing new, innovative and culturally significant approaches to our teaching and research in the areas of actor training. This conference will allow us to develop a wider conversation with colleagues who are working in this field nationally," Dr Lewis said.
The national AusAct Conference is from 9am to 9pm on Saturday 1 and Sunday 2 September 2018 at the CSU Riverina Playhouse in Cross Street in Wagga Wagga, and the CSU School of Communication and Creative Industries in Wagga Wagga (buildings 21, 74, and 71).
More information can be found here: www.ausact.com And on Facebook: https://www.facebook.com/AusActAATC/