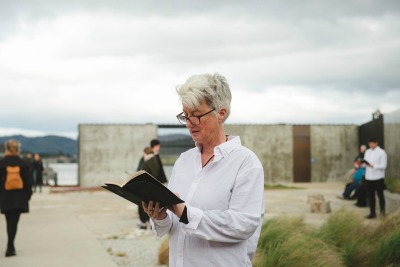 A Charles Sturt University (CSU) academic and a colleague have explored two Derwent Rivers on opposite sides of the world in an experiment in hydrographic publishing now on display in Tasmania.
CSU's Associate Professor Margaret Woodward (pictured left) and Dr Justy Phillips from the University of Tasmania undertook a year-long project, Fall of the Derwent (2016), now installed at the Glenorchy Art and Sculpture Park (GASP) at Wilkinson's Point at Elwick Bay in Tasmania as part of Swimmable: Reading the River program.
Professor Woodward said, "We undertook a year-long process of creative practice research that included in-depth archival research, walking, writing, making, recording and publishing.
"Over two recent summers, we walked from the sea to the source of two Derwent Rivers. First, we walked from the seaport of Workington to the valley of Borrowdale in the Lake District National Park in the United Kingdom, and then from Blackmans Bay to leeawuleena/Lake St Clair in Tasmania.
"During this research phase we collaborated with many individuals, agencies and stakeholders."
These included Tasmanian Aboriginal people, Hydro Tasmania, Derwent Estuary Program, Inland Fisheries Service, Parks and Wildlife Service, Telstra, Hop Producers Australia, Saltas, The State Library of Tasmania, Mineral Resources Tasmania, and LISTMAP.
Professor Woodward said Fall of the Derwent (2016) is a 96-page written text-artwork and an experiment in hydrographic publishing.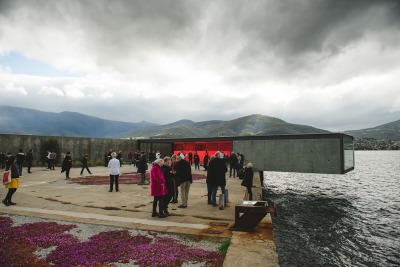 "Visitors to the public artwork installation at Glenorchy Art and Sculpture Park (pictured left) are invited to experience Fall of the Derwent by scanning the artwork's permanently installed QR code," she said.
"A single scan of the QR code will trigger a digital download of this hydrographic score onto a smartphone or tablet which the visitor can then read or perform."
The downloadable artwork uses coded html to 'read' the River Derwent's current Energy in Storage Levels (as made public by Hydro Tasmania). By connecting their own river of creative writing, prose and historical research to this dynamic data, each download of Fall of the Derwent publishes a completely unique hydrographic score, reflecting exactly the percentage of energy stored that day in the River Derwent system. The score is also available to download from the project website: www.fallofthederwent.net
Margaret Woodward is Associate Professor of Design, a member of the CSU Institute for Land, Water and Society (ILWS), and leader of the Creative Regions Lab at Charles Sturt University. Dr Justy Phillips is an adjunct lecturer at the University of Tasmania.