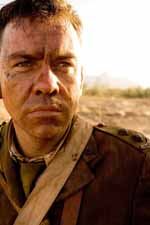 The star of the new Australian feature film
Beneath Hill 60
, which opens in cinemas nationally on Thursday 15 April, says he's glad he trained in the
Theatre/Media course
at Charles Sturt University (CSU) in Bathurst and he'd happily do it again.
Actor Mr Brendan Cowell plays the central character Oliver Woodward in the film based on the until-now little-known true story of the Australian miners who changed the course of World War I by tunnelling beneath enemy lines - beneath 'hill 60' - on the Western Front in Belgium in 1916 to detonate the largest explosion up until that time.
"I guess the training that we do in theatre/media was very physical, that's what I liked about it," Mr Cowell said. "We did a lot of circus training, commedia dell'arte (comedy of the art of improvisation), and things like that, and I think I've become quite a physical performer, both on stage and on screen. Also, I guess theatre/media teaches you to be industrious, and that's what these guys (Oliver Woodward and his men) were, and that's what I like to be as an actor; use all the tools that you have and come up with something quite dynamic.
"If I could have my time again I'd go back through the University at Bathurst, I wouldn't go to NIDA or any of those things. I'm so glad I did what I did."
Mr Cowell describes his character Oliver Woodward as " … an outdoors guy who loved a beautiful landscape" who went from "all that space and beauty … from heaven and freedom, to hell and isolation" in the tunnels.
Asked how much preparation he does for a role, and this role in particular, he says, "I prepared a lot. I like to think I go pretty hardcore when I prepare for roles - physically, mentally. I do a lot of research. This job was very much about research. Jeremy (director Jeremy Hartley Sims) just said 'read everything you can about war, about tunnelling, mining, explosives, and about Oliver Woodward', so I just read everything. And then I got quite lean and really fit because I had 14 hour-days six-days a week, and it was a very physical shoot so I just wanted to be capable of all that. It's funny, because Jeremy's pet-hate is fake panting in movies, so between scenes we were sprinting up and down the trenches, or doing push-ups or star jumps and squats and all those kind of things to keep out of breath, so it was quite challenging."
And what, as a successful working actor, does he advise young aspiring actors to do?
"Do something else," he laughs. "I really don't know … I guess, I really don't have a process, or I haven't really had an acting lesson, because (CSU's) theatre/media wasn't about the internal process of the actor, it's about performing, so I don't really know what I'm doing. But I'd say just 'go for it' and be as truthful as possible. Acting is very scary, and people can tell when you're lying as an actor, and a lot of people can't quite go there and can't do it."
Dr Jerry Boland, senior lecturer and course coordinator at the CSU School of Communication and Creative Industries in Bathurst, said, "Brendan's performances, and his writing, have always exemplified a certain Australian vividness that is at once subtle, yet raw, exuberant, and whole-heartedly human in what he seeks to communicate to his audience. People respond to this quality."
Another CSU graduate, Mr Martin Thomas, who studied
Acting for Stage and Screen
at the CSU School of Communication and Creative Industries in Wagga Wagga, makes his feature film debut in
Beneath Hill 60
as the character Ginger 'Mick' O'Donnell.