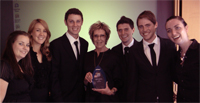 The Charles Sturt University (CSU) on campus student advertising agency, Kajulu Communications, has won the finals of the International Advertising Association's (IAA) National 'Big Idea' Advertising competition on Monday 9 November for the fifth time in seven years.
CSU Vice-Chancellor and President, Professor Ian Goulter, congratulated the students on their win.
"The agency has certainly demonstrated a strong track record of distinguishing itself nationally and beyond. Credit goes to these talented students and their lecturers for their hard work," Professor Goulter said.
Head of the CSU
School of Communication
at Bathurst, Associate Professor Rod McCulloch said he was extremely proud that the School's students had again won this major national award.
"Our repeated success in this national competition demonstrates why Charles Sturt University is the University of Inland Australia. It shows the value of the School of Communication's strong support from industry partnerships, which is acknowledged by receipt of congratulations from Ms Heather Leembruggen, Managing Director at Communications Plus, who is President and Chairwoman of the IAA Australia Chapter, and Mr Michael Lee, Executive Director of the IAA in New York," Professor McCulloch said.
Ms Anne Llewellynn, lecturer in
advertising
, said the judging of the three finalist teams was held at the boardroom of advertising agency Clemenger BBDO in Sydney, with the winner announced after the presentations.
"The competition attracts entries from all IAA-accredited institutions around Australia and invites two teams from each to submit an industry-standard professional campaign presentation for an Australian charity or not-for-profit organisation. This year, the client was Assistance Dogs Australia," Ms Llewellynn said.
"From the 11 teams competing, CSU's Kajulu Blue made the finals with teams from Edith Cowan University in Perth and RMIT in Melbourne.
"The three teams presented their integrated marketing communications recommendations to the client, the Board of IAA Australia Chapter and the judging panel which consists of senior industry professionals. The CSU Kajulu Blue team was voted national champions, and was praised by the judging panel for the professionalism and depth of their presentation."
The students in the champion 2009 Kajulu Blue team were Mr Martin Peat, Ms Jacinda Agnew, Mr Ken Attard, Ms Melanie Thorne, Mr Shannon Colman, and Ms Prue Maggs-Smith. Professor McCulloch and Ms Llewellynn were their advisers.
CSU's Kajulu Communications advertising teams have won the annual national competition five times since its inception in 2003, and have also won the international
InterAd World Advertising Championship
award three times since 1999.