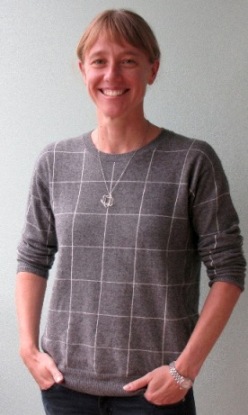 A former CSIRO researcher has swapped science for graphic design studies at Charles Sturt University (CSU) in Port Macquarie.
Ms Tania Ritchie worked in the CSIRO Solar Thermal Energy group with its two high-temperature solar towers at Newcastle, but moved to Port Macquarie when her husband relocated for work.
"I decided to take advantage of the disruption and do something new," Ms Ritchie said. "I enrolled in the Bachelor of Creative Arts and Design (Graphic Design) in the CSU School of Communication and Creative Industries to take the opportunity to get a proper grounding in design.
"I had no idea it was the first time graphic design had been offered on-campus here. All I saw was that the campus was really conveniently located, and the University's website made it easy to enquire about enrolling.
"My plan was to try it for six months to see if it was for me, but I have liked it so much that I'm going to continue by online study when I move back to Newcastle in August. It's impressive that the University has found such amazing lecturers for the course.
"Doing the course has meant I've met new people, learned more about Port Macquarie, and become more involved with the community too."
Ms Ritchie, who has a Bachelor of Science (physics major) and Bachelor of Chemical Engineering, says she is still extremely passionate about science, but after seven years at the CSIRO she realised it was time for a change.
"I spent two years doing freelance and casual work, both as a scientific researcher and a science writer," she said. "During this time I also began doing some graphic design work for some friends involved with a community drama school, firstly doing a poster for a performance of 1984, and then eventually doing all the branding and imagery for other performances. This led to other paid work like wedding invitations and business websites, so I created Beaker Design.
"I'm still working out how to reconcile graphic design with my science career, but I'm finding that a scientific background can be very helpful for some of the technical aspects of design, such as perspective systems, colour theory, and vector graphics. "Others have successfully combined science and design, so I'm looking forward to finding my own way to carve out a niche."
Prospective students can find out more about the graphic design course and other courses available at CSU in Port Macquarie at an information day - iDay - at the University, 27 Grant Street, Port Macquarie, on Thursday 25 June.