Charles Sturt University (CSU) academics have offset the carbon emissions from a study tour to India by planting native trees and shrubs on their return.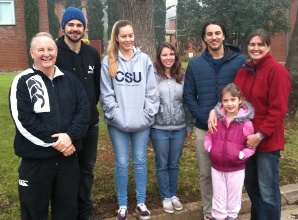 The academics, from the University's School of Humanities and Social Sciences, recently spent a cold winter morning in Wagga Wagga on the CSU Farm to plant 200 native shrubs and 160 native trees over three hectares.
"The previous social work study trip to India, which we undertook in 2012, had a particular emphasis on sustainability," said Dr Bill Anscombe – one of the CSU academics involved.
"We successfully applied for a $6 700 Sustainability Grant from CSU Green to develop six modules on sustainability for the students as well as fund the recent plantings of native vegetation on the University Farm to offset the carbon usage of our international travel.
"Through this project, we are promoting sustainability in higher education, as per the Tailloires Declaration to which Charles Sturt University is a signatory."
CSU Green's Ms Nicola Smith said, "The commitment of the social work academics as leaders in achieving sustainable change at the local and global level is reflected in the outcomes of this carbon offsetting project.
"As role models, staff and students are consciously offsetting the carbon emissions generated through their international study trips.
"They are demonstrating that at a local level, small incremental sustainable change through tree planting can achieve local and global outcomes in reducing greenhouse gas emissions."
The fortnight-long trip included work placements for the social work students at a number of locations including the rural development agency, Jankidevi Bajaj Vikas Gramin Sanstha (JBVGS), a women's support service, Saheli, Sadhana Institute for Sustainable Development and Kamshet English School and Boarding Orphanage (KESBO). Read more about the 2012 India study trip in CSU News.
The team behind the CSU Sustainability Project, Cultural Change Through Carbon Offsets, includes Dr Bill Anscombe, Dr Karen Bell, Ms Heather Barton and Ms Heather Boetto - all from the School of Humanities and Social Sciences.
Read more about the annual Sustainability Grant scheme on the CSU Green website.
Read more about other initiatives funded from a Sustainability Grant in CSU News including an Indigenous Food Garden at CSU in Wagga Wagga and a Ride and Recharge – the human-powered bicyle initiative at CSU in Bathurst.