* A boost for outstanding female early career researchers in humanities and social sciences
* Program focuses on issues confronting women researchers and identifies career opportunities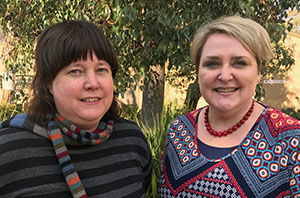 Two early career researchers at Charles Sturt University (CSU) have been awarded places in the prestigious 2018 Kathleen Fitzpatrick Laureate Fellowship Mentoring Scheme.
Dr Tamara Cumming (at right in the photo) a lecturer and researcher in the CSU School of Teacher Education in Bathurst, and Dr Jessie Lymn (at left in the photo) a lecturer and researcher in the CSU School of Information Studies in Wagga Wagga, were awarded the places in the program to advance their research careers.
The Kathleen Fitzpatrick Laureate Fellowship Mentoring Scheme is fully funded by the Australian Research Council and is offered annually for the next five years.
The aim is to attract outstanding early career female researchers who have completed their PhDs within the past 10 years in the humanities and the social sciences to an intensive mentoring program.
The program focuses on issues confronting women researchers; identifying career opportunities; engaging in national and international research environment; managing institutional change, and developing time management skills.
It also involves to workshops in Melbourne from 3 to 7 December, with all travel and accommodation costs covered. The workshops will explore all aspects of developing a research career, presenting research, and direct mentoring of current research projects.
Dr Cumming said she will use the opportunity to gain mentoring in relation to her existing research in early childhood educators' well-being.
"In particular, I will focus on how to manage a multi-disciplinary team, and build an international research partnership," Dr Cumming said.
"Both of these issues also relate to my CSU Research Fellowship, as part of which I will travel to Denmark to further develop existing research contacts.
"Having this opportunity at this stage in my career will build on all I learned as part of the University's involvement in the Early Years CRN from 2011 to 2015. Being an early career researcher rather than a PhD student brings very different considerations."
Dr Lymn said, "Participating in the mentoring program will enable me to focus on developing research and professional networks in the wider humanities and social sciences, which is harder being based in a regional town.
"It will also enable me to further refine my research, which considers the impact of fringe material on collections in libraries, archives and museums, such as Do It Yourself publishing and LGBTQI histories."