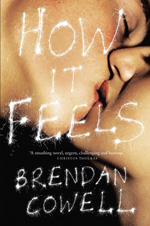 A new novel by Australian actor and playwright Mr Brendan Cowell draws in-part on the author's experiences as a student at Charles Sturt University (CSU) in the 1990s. His novel,
How It Feels
, tells the story of the development of a young man in modern-day Australia who comes from one of Sydney's southern beach-side suburbs to study at the University in Bathurst.
"It's a happy blend of invention, truth and theft," Mr Cowell said. "It's what I felt, imagined and sometimes lived. Or lived and then enhanced for dramatic weight, etc. Nothing in the book was written for shock, all of it comes from a place of truth. But none of it actually happened, though I know it did."
Mr Cowell admits to a range of literary influences on him. "I grew up reading Roald Dahl, moved on to JD Salinger, found Jonathon Franzen, MJ Hyland, and, perhaps to the disdain of some of my readers, (US poet and writer) Charles Bukowski. I also used to love Hanif Kureshi, and read a fair bit of Tolstoy when I had some time on my hands.


"I didn't study much writing at university. Jade McCutcheon taught the myth structure to us, and we analysed Star Wars. (Theatre/media lecturers) Bill Blaikie and Gerry Boland were both influences. Bill was all about making you a whole artist, and Gerry was always very insightful. Annabel Scholes directed me in my first lead role in a play there called Unidentified Human Remains and The True Nature of Love, and that was a wild and rich learning curve for me."
As well as a range of acting roles in theatre, television and films, and before writing his first novel,
How It Feels
, Mr Cowell wrote the plays
Bed
(2001), which won the 2001 Patrick White Playwrights' Award,
Self-Esteem
(2007), and
Ruben Guthrie
(2009). He previously starred in the acclaimed Australian feature film
Noise
(director Matthew Saville, 2007). He starred in the Australian feature film
Beneath Hill 60
(director Jeremy Sims, 2010), and most recently in
I Love You Too
(director Daina Read, 2010). He played the title role in the Bell Shakespeare Company's production of
Hamlet
(2008), and features in the soon-to-open Sydney Theatre Company production of
True West
, directed by Academy Award-winning American actor Phillip Seymour Hoffman.
Asked about his preferred forms of creative expression, Mr Cowell said, "I don't believe I prefer anything. I enjoy writing when I'm writing, acting when I'm acting, directing when I'm directing. When I'm there, that's what I'm doing and it feels right and there is nothing else. It's like being able to bat, bowl and specialise in the gully."