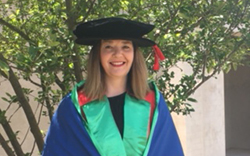 Research by a Charles Sturt University (CSU) doctoral graduate found that public relations (PR) agencies' use of social media doesn't really foster 'relating'.
Dr Sharon Schoenmaker (pictured), an academic and discipline lead in public relations in the CSU School of Communication and Creative Industries in Bathurst, is one of the youngest academics to graduate with a Doctor of Communication at the CSU Faculty of Arts and Education graduation ceremony at 3pm on Thursday 14 December.
The objectives of her research were twofold; to develop an understanding of PR practitioners' use of social media, and to examine the possibilities and challenges social media pose to public relations.
To undertake this research Dr Schoenmaker returned to professional practice to work in a consultancy in Sydney researching and exploring how practitioners were using social media platforms to interact with each other, as well as their clients.
The research documented and explored 'relating' from three contrasting, yet complementary, approaches within Narrative Inquiry. Project One involved an analysis of content to identify themes and how these themes influenced participants' approaches to social media to achieve strategic objectives. Project Two, comprised a structural analysis that examined the participant's online discourse and social interactions within a campaign around binge drinking. Project Three explored relating through a personal and reflexive analysis of the researcher as a participant, sharing the process of constructing meaning collaboratively with the participants of this case.
Dr Schoenmaker said, "For public relations, whose remit is to 'relate to publics', my research showed three types of relations using social mediums, but also that these interactions were not accurately described as 'relating'.
"This work also highlighted a narrative that placed unrealistic expectations on practitioners to achieve the outcome of relating within a context that prevented them from achieving that outcome.
"Furthermore, the transparency of social mediums in the didactic approach of public relations, where organisational messages creep into social spaces, conveyed presumption on the part of the profession that is impeding, rather than realising the outcome of relating."
The central study of her research investigated a recent Australian Government social media campaign on the issue of binge drinking, called Be The Influence.
The research explored the interactions of the participants - their language, text, images and videos shared with others online within the context of the campaign. More broadly, it explored the potential that social media offers in connecting and engaging with others in online spaces.
Dr Schoenmaker said, "The research investigated the role of social media in building relationships with others online. I found that social media has an important role to play in building connections and engaging with others around issues important to them, but its ability to build relationships, as we understand them offline, is limited.
"This research shows the indispensable nature of technology to our social lives, how it shapes our social interactions as well as our attempts to relate to others in online contexts.
"It supports the fear often associated with using technology for socialising with others, that online interactions are poor substitutes for the authentic exchanges necessary to build relationships with others."