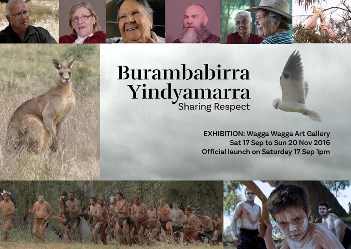 An award-winning film by a Charles Sturt University (CSU) student will take centre stage at a new art exhibition about contemporary Wiradjuri and Ngiyampaa cultures.
The exhibition, Burambabirra Yindyamarra, at the Wagga Wagga Art Gallery from Saturday 17 September is co-curated by PhD student Mr Bernard Sullivan. His film, Yindymarra Yambuwan (Respecting Everything) won a Premier's Multicultural Media Award in July.
The film explores 21 different aspects of Yindyamarra based on conversations with Wiradjuri people. Yindyamarra is a Wiradjuri word for a lifestyle based on respect.
In addition to the award-winning film, the Burambabirra Yindyamarra exhibition includes documentaries on Wiradjuri language and culture, animations, and interviews by Mr Sullivan with Elders discussing the importance of culture in their lives.
The exhibition also features photography and prints from new books by senior Ngiyampaa Elder Aunty Joyce Hampton, Wiradjuri Elder Aunty Lorraine Tye, and Wiradjuri teacher Ms Letetia Harris.
Mr Sullivan said, "This exhibition is about showing respect to all those who have been involved in the projects connected to my PhD research, particularly the Elders. It celebrates the amazing revitalisation that is taking place in language and culture, particularly for Wiradjuri people.
"It comes out of an innovative way of working - an Indigenous Centred Methodology - that puts creative, culture-centred, Elder-led, community projects right at the heart of things.
"On a personal level, I believe the exhibition shows some insight into the profound transformation in my understanding and how I have learnt to become more culturally responsive to the needs of the community I am working with.
"The exhibition shows how culture and language are not optional, but essential to identity, self-esteem and wellbeing for the Wiradjuri people. Everything else comes from these foundations."
The exhibition officially opens at 1pm on Saturday 17 September in the Wagga Wagga Art Gallery, Civic Centre, Baylis Street in Wagga Wagga. It will run until Sunday 20 November.
Burambabirra Yindyamarra has been compiled and curated by Mr Sullivan and CSU graduate Ms Nives Zalokar. It is a major part of Mr Sullivan's PhD.
Mr Sullivan was also among the first graduates of the University's Graduate Certificate in Wiradjuri Language, Culture and Heritage.