Charles Sturt University (CSU) students are sharing digital photography skills to help a group of older Australians tell their stories through new media.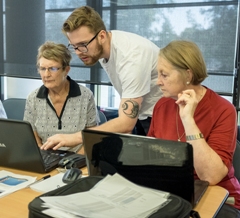 The students from CSU's School of Communication and Creative Industries in Wagga Wagga are leading a series of workshops during November and December to help people aged over 55 develop skills in photography.
The I Want to Share My Story program is being run in conjunction with Wagga Wagga City Council and received funding through the Creative Ageing Local Government Grants Scheme.
CSU photography/graphic design student Mr Joshua Thomas is one of three students facilitating the workshops.
"I have an interest in teaching and thought this project would help me develop those skills and lead to further opportunities to work within the rural art community," he said.
More than 25 people began the six-week program on Friday 7 November and Mr Thomas is excited to be able to pass on some of his knowledge to an older generation.
"It's definitely never too late to learn new skills and keep up with the latest technology and many of the foundations of photography still apply to digital photography today," he said.
"The workshops will cover everything from learning the technical aspects of photography such as how to use software and camera tools through to the conceptual ideas in photography, so that photos not only look great but create an interesting narrative and meaning.
"We hope the class will hone these skills so that their photographs become something to be proud of.
"No matter what you're teaching, you'll always learn something from your students and I can already see that I'll be inspired by their work."
Wagga Wagga City Council Cultural Officer Ms Tracie Miller said, "The Creative Aging project has a strong focus on inclusiveness, cohesion, communication and skills that will translate into ongoing positive community relationships, particularly between the Charles Sturt University students and the participants from our mature aged community.
"The participants really enjoyed the first session and took a lot away from their teachers and are looking forward to the rest of the workshops."
Work during the program will be exhibited during Seniors Week in March 2015, in print and via Wagga Wagga City Council's projection screen on the side of the Civic Centre building.